To Sprinkle Many Nations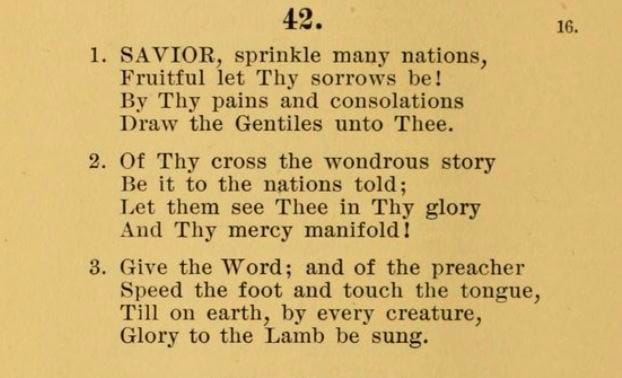 "So shall he sprinkle many nations" (Isaiah 52:15).

The word "sprinkle" speaks of the purifying power of the blood of Christ. In this context, it means the effects of his death have no national limits. Though he was a Jew dying on a Roman cross, because he was also the Son of God, his bloody sacrifice provides cleansing and healing for many nations.
Not just for Israel.
Not just for the Jews.
Not just for the Romans.
Not just for the Greeks.

But for every nation on earth.

Pick up a globe and spin it in your hands. When it stops, let your finger fall at random anywhere on the globe. What nation did you land on?

Malaysia?
Bolivia?
Ukraine?
Mozambique?
Turkmenistan?
Sierra Leone?
Belize?
Tunisia?
Latvia?
A few months ago Marlene and I attended a conference aimed at reaching children with the Good News of Jesus. The leaders asked for special prayer that they might someday be able to minister in North Korea. They regard it as the most difficult nation on earth for gospel ministry. Believers in South Korea have at times launched "gospel balloons" that will float into North Korea and hopefully be recovered by someone who will read the gospel literature attached to the balloon. Just reading the literature would be a dangerous proposition for anyone in North Korea. While we were at the meeting, the news broke that North Korean Supreme Leader Kim Jung-un had ordered the execution of 33 Christians who worked with a South Korean missionary and helped establish underground churches. Meanwhile, prayers go forward for the day when North Korea will be open to the gospel.

Why do we pray that way?

Isaiah 52:15 gives us the answer. Christ died so that his purifying blood might be sprinkled on many nations. That certainly includes North Korea just as it included the pagan Roman Empire of the first century.
As Christmas draws near, let us remember that Christ did not come for one ethnic group or one nation or one language. He came to be the Savior of the whole world.
Forgive us, Lord, for doubting your power for we know you can reach beyond the barriers men erect to keep you out. May we not stop until everyone, everywhere has heard the Good News of Jesus. Amen.
You can reach the author at [email protected]. Click here to sign up for the free email sermon.
---
---