The Promise of Reconciliation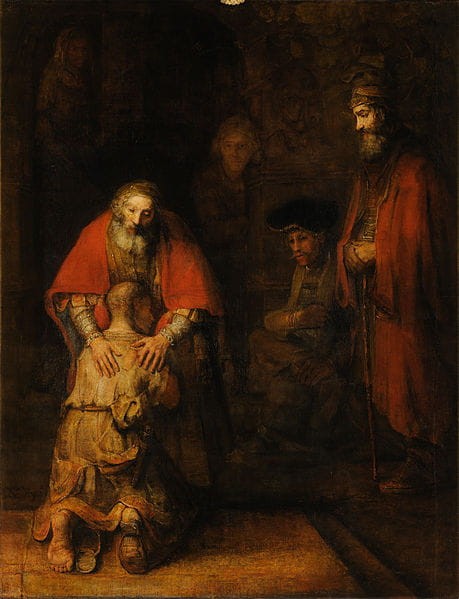 "The Return of the Prodigal Son," Rembrandt, 1667
"When we were God's enemies, we were reconciled to him through the death of his Son" (Romans 5:10).
Think about the phrase, "God's enemies."
Is there anything sadder than that? To be an enemy of the God of the universe. To stand opposed to the Lord Almighty. To mock his name. To reject his counsel. To resist his Spirit. To blaspheme his Son. To refuse his grace. Yet that is what we did, and that is what we were before we came to Christ. We were all God's enemies. Not some of us. All of us. By nature we are born rebels. We come into this world as the enemies of the Lord.
The problem, of course, is sin. Perhaps you've seen the drawing that puts man on one side of the cliff and God on the other. In between is the gap, the chasm, the pit caused by sin. Isaiah 59:2 says, "Your sins have cut you off from God." That's the whole story of the human race in one sentence. We can't find a way to bridge the gap. If God doesn't do something, we're sunk!
That's where the gospel comes in.
While we were ungodly . . .
While we were sinners . . .
While we were his enemies . . .
He sent his Son to die for us.
He gave us his Word.
He sent the Holy Spirit to convict us.
To be reconciled means once you were enemies but now you are friends. It means peace has broken out where once war reigned. It means the guns have been put away, the army has been sent home, and the killing has finally stopped.
One day while we were running away from Jesus, he found us, brought us to our knees, opened our eyes, gave us new life, caused us to see Jesus, gave us a desire to reach out, pointed us to the cross, and gave us a heart to believe his gospel. And in one shining, amazing, supernatural moment,
We were enemies no longer.
We were ungodly no longer.
We were strangers no longer.
God reconciled us to himself in the death of his Son.
We who once were enemies of God are now called his friends.
We who once were far away have been brought near to God.
We who once were aliens and strangers are now part of God's family.
That's the miracle of reconciliation.
Lord Jesus, when I was your enemy, you made me your friend. Thank you for never giving up on me when I was running from you. Amen.
Musical bonus: I love the gospel-saturated words of this newer Christmas song by Selah called Rose of Bethlehem.
Click here to sign up for the free email sermons.
---
---