The Other Thief on the Cross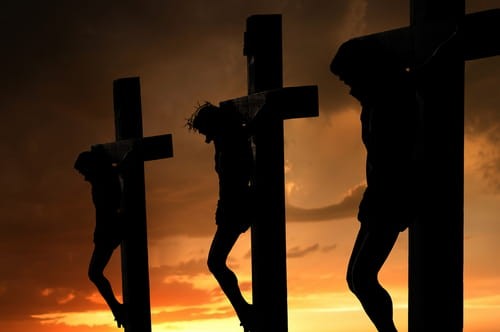 "Then one of the criminals hanging there began to yell insults at Him: 'Aren't You the Messiah? Save Yourself and us!'" (Luke 23:39).
Two thieves were crucified with Jesus.
We mostly remember the one who repented.
But what about the other one?
Here's what we know for sure. These two men were both criminals of some sort. Luke uses a word that simply means "evildoer." Matthew and Mark use a different word that means "robber" or "plunderer."
It's also helpful to know that when Jesus was first crucified, both criminals began to mock him by shouting insults. Anyone looking at the scene shortly after 9 AM would have concluded that the two thieves were equally disdainful of Jesus, the man hanging from the center cross.
We'll talk about the penitent thief tomorrow.
For a moment let's focus on the crook who didn't repent.
He began to shout at Jesus, "Aren't You the Messiah? Save Yourself and us!" When the text says he yelled it as an insult, the verb is the one from which we get the word blasphemy. The impenitent thief blasphemed the Lord Jesus by mocking his power. Note the tone of what he said, "Aren't you the Messiah?" That's different from saying "If you are the Messiah," which involves a bit of doubt. What he really means is, "You're obviously a fraud because if you were the Messiah, you would rescue yourself and us."
Both thieves had exactly the same experience that morning. They were both taken from their cells, both forced to carry their own cross, both had nails driven through their hands and feet, both were in terrible physical condition, and both men would shortly die. Beyond that, both men had the same chance to observe the man on the middle cross. They both heard him cry out, "Father, forgive them for they don't know what they are doing." Both men knew they didn't have long to live.
One man used his dying moments to blaspheme the Lord. He obviously did not fear God. Angry and desperate, soon to face God in judgment, he did not repent.
The crowd taunted Christ and dared him to come down from the cross. Reflecting on this, William Booth said, "They claimed they would have believed if he had come down; we believe because he stayed up."
We learn much here about the hardness of the human heart. Some people prefer hell to heaven so that is where they will go. Some will not be persuaded even when they are in the presence of Jesus.
We learn something about our Lord from this. Though the crowd taunted him to come down, he would not turn from his rescue mission on behalf of the human race. If he had come down, we would all be lost. Thank God he stayed on the cross and died for us.
Philip Bliss, beloved gospel musician and good friend of D. L. Moody, wrote "Hallelujah! What a Savior!" shortly before his untimely death in 1876. The second verse reminds us of what Jesus endured while he was dying:
Bearing shame and scoffing rude,
In my place condemned He stood;
Sealed my pardon with His blood.
Hallelujah! What a Savior!
Thank you, Lord Jesus, that you stayed on the cross all the way to the end. Hallelujah! What a Savior! Amen.
You can reach the author at [email protected]. Click here to sign up for the free email sermon.
---
---