The Greatest Revival in History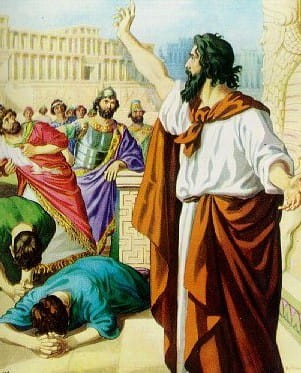 What would you do if you had been vomited out by a great fish?
What's your next move?
First you find a hose and clean yourself off. After all, you've been covered with muck for three days and three nights. But what then?
If you happened to live in the modern world, you'd probably start a reality show, do some interviews, and share your story with the world. Call it "The Jonah Show."
If you've had a spiritual experience, you might want to start your own church right there on the beach. Call it "Church of the Whales."
And if you're an entrepreneur, you might start a water park. That's really big nowadays. You can make a lot of money during those hot summer days. Call it "Jonah's Water World."
If you think about it, a man who's spent time in the belly of a great fish has lots of opportunities if he wants to take them. A creative type could use his experience to try and catapult himself to fame and fortune.
What do you do if you are Jonah? At this point, you wait for God to tell you what to do next. In Jonah's case, he didn't have to wait very long.
You can read the rest of the message online.
You can reach the author at [email protected]. Click here to sign up for the free weekly email sermon.
---
---