Jesus Speaks to His Men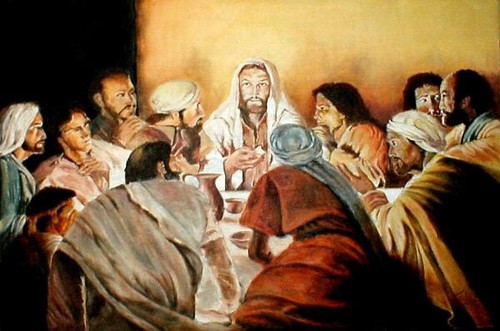 "You are those who have stood by me in my trials. And I confer on you a kingdom, just as my Father conferred one on me, so that you may eat and drink at my table in my kingdom and sit on thrones, judging the twelve tribes of Israel" (Luke 22:28-30).
The final act has been set in motion, the die has been cast, all the players are on the stage, the wheels of injustice slowly grind away. Evil times have come. Even now Judas is on his way to betray the Lord Jesus.
But before the final drama unfolds, Jesus says something very significant to his men: "You are those who have stood by me in my trials." He remembered that his men had been with him from the beginning. They had seen it all: the good times and the bad, the miracles and the controversies, and when thousands of Sunshine Disciples had left him, these 11 men had stayed by his side. They were not much to look at; they weren't educated or powerful or eloquent. They didn't have much to recommend themselves. Maybe we wouldn't have picked them as part of our support team. They were mostly blue-collar, country types who felt a little uncomfortable in a big city like Jerusalem. They were fishermen and farmers and tax collectors and political zealots. They really didn't have that much in common.
But thrown together by their allegiance to Jesus Christ, over the years they had become a team. Now their Captain looks at them for the last time and says, "I haven't forgotten that you stood with me when everyone else ran away. That means a lot to me. I'm going to tell you something that you won't fully understand right now. But later on, you'll look back on this moment and remember my words. The day is coming when I will have a kingdom of my own. It's hard to believe right now, but it's true. Better days are coming. I won't forget that you stood by me in my darkest hours. I'll make it up to you in ways you can't even imagine. When that day comes, you'll not regret your faithfulness, just as I tell you that I have not forgotten it. You will be with me in my kingdom, eating and drinking and ruling the people of Israel. I know that may sound like wishful thinking right now, but don't forget that I told you these things. Nothing means more to me than this: You were with me in the time of my trial."
Here's an amazing fact. Even as he speaks these words, Jesus knows that in a few hours all these men will desert him (Mark 14:50). Under enormous pressure, scared and tired and disoriented, they will all scatter when the soldiers arrest Jesus.
Jesus knows that, and he still says, "You stood with me in my hard times." What a Savior who can honor those who serve him, even when that service is less than perfect.
No one is 100% faithful to Jesus. We all struggle in many ways. We serve a great Savior whose grace covers even our future failures.
Stay faithful today. That's all we can do. No one will ever regret serving Jesus. The rewards are out of this world.
Lord Jesus, thank you for forgiving grace that covers my sin. I pray for enabling grace that I might be faithful to you today. Amen.
You can reach the author at [email protected]. Click here to sign up for the free email sermon.
---
---