The Boys of Bethlehem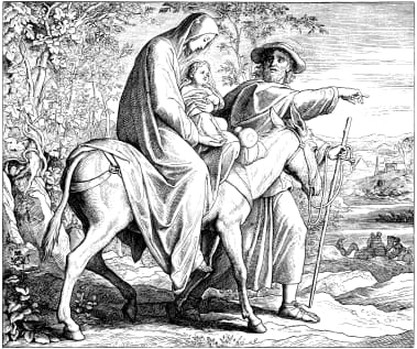 The Flight to Egypt
Have you ever checked out a website called Neighborhood Scout?
The answer is probably no unless you're thinking about moving. Modern technology has made it possible to sit at your computer and do a virtual search of any city, town and neighborhood in the country. You can find out about the school system in Tarpon Springs, the average income in Bar Harbor, the rate of new construction in Tacoma, or the demographic makeup of Indianapolis. For that matter, you can break down a city like Indianapolis into many smaller neighborhoods, and then you can compare the stats for one part of the city against another.
That wasn't possible until just a few years ago.
I mention that because this week I discovered a page on the Neighborhood Scout website where they ranked the 100 Safest Cities in the United States. Using the latest crime data involving robbery, murder, rape, vehicle theft and aggravated assault, they compiled a list of the safest places to live in the US.
Hartland, Wisconsin came in at number 1.
Followed by Bergenfield, New Jersey at number 2.
Brentwood, Tennessee took the third spot.
Followed by Franklin, Massachusetts at number 4.
Coming in at number 5 was Newtown, Connecticut.
Most of us had never heard of Newtown before last Friday. If you read the website's description, you can understand why some people would consider it the ideal place to live. The education level in Newtown is considerably above the national average. Going by the numbers, violent crime there has been almost nonexistent. It is a white collar community, upper-middle class, with excellent schools, with lots of new construction and some of the highest home prices in America.
Here's a quote from the website:
Because of many things, Newtown is a very good place for families to consider. With an enviable combination of good schools, low crime, college-educated neighbors who tend to support education because of their own experiences, and a high rate of home ownership in predominantly single-family properties, Newtown really has some of the features that families look for when choosing a good community to raise children. Is Newtown perfect? Of course not, and if you like frenetic nightlife, it will be far from your cup of tea. But overall this is a solid community, with many things to recommend it as a family-friendly place to live.
Clearly, Newtown is a good place to live. One can see why families have been drawn there. It has earned its designation as one of the safest places in America.
And then came the events of last Friday morning.
Rather than repeat here what we've all seen and heard, I would rather focus on the fact that in some ways, this is nothing new.
Last year there were 14,612 murders in the US. That number has not been below 14,000 since 1968. That's 281 a week, 40 a day. Said another way, if the murders were evenly distributed across the 50 states (which they are not), that would be 292 murders per state each year. Divided by 12, that means that each state would suffer the equivalent of a Newtown massacre every month.
We are a murderous people, living in a blood-soaked world. Given all the killing, it is to our credit that we can still be stunned by what happened in Newtown. It was a crime for which we seem to have no categories at all. As I write these words four days later, there seems to be no clear explanation, no answer to the Why question, nothing that would help us make sense of the slaughter of the children of Newtown.
Ever since we heard the news, we've all been struggling to deal with it. No one seems to have an answer. Perhaps Max Lacado said it best, in these sentences from a prayer he wrote on Friday afternoon:
Dear Jesus, It's a good thing you were born at night. This world sure seems dark.
He's right. It does seem darker this week. Odd that just a few days before Christmas we're talking about the darkness of the world.
The governor of Connecticut said it another way:
Evil visited this community today.
He was right too. What happened was pure evil, undiluted and Satanic. What else do you call it when a man takes a rifle, kills his mother, then kills 20 innocent schoolchildren and six adults?
That's what evil is and that's what evil does.
Many have commented on how this horrific event took place just a few days before Christmas. It would be horrific at any time of the year, but it somehow seems worse during this happy season.
You can read the rest of the sermon online.
---
---