The Best Book I've Read This Year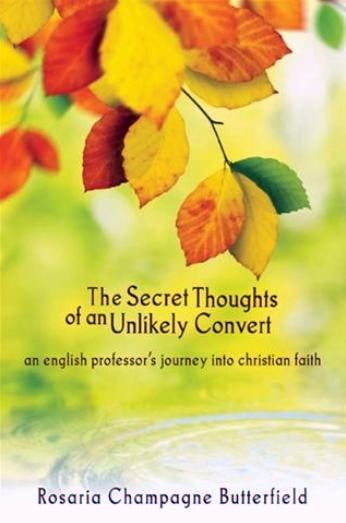 Imagine that you are a tenured professor at a major American university.
You have a busy and fulfilling life.
You are a secular feminist.
You are not absolutely anti-Christian, but you see many problems with the Christian faith.
And by the way, you are a lesbian. Make that a lesbian activist.
One day you get a letter from a Presbyterian pastor asking if he could meet with you. What do you do then? The answer to that question put Rosaria Champagne Butterfield on a journey that radically transformed her life.
Today she is a pastor's wife serving in a denomination featuring a capella psalm singing. She and her husband have adopted four children. She is very active in the classical education homeschooling movement.
How do you get from where she was to where she is?
The answer to that question is found in The Secret Thoughts of an Unlikely Convert. It's the best book I've read this year.
Let me give you the first two sentences of the first chapter:
How do I tell you about my conversion to Christianity without making it sound like an alien abduction or a train wreck? Truth be told, it felt like a little of both .
A bit later she writes about the impact of her conversion:
Conversion put me in a complicated and comprehensive chaos. I sometimes wonder, when I hear other Christians pray for the salvation of the "lost," if they realize that this comprehensive chaos is the desired end of such prayers. Often, people asked me to describe the "lessons" that I learned from this experience. I can't. It was too traumatic. Sometimes in crisis, we don't really learn lessons. Sometimes the result is simpler and more profound: sometimes our character is simply transformed.
This book made me believe all over again in the power of God to convert a human life. Rosaria Butterfield was going in one direction (and quite happy about it) until Christ invaded her life. Eventually her life was turned upside down. Now her life is going in a completely different direction.
We all need to read a good conversion story from time to time just to remind ourselves that Jesus is still in the life-changing business. There is no one beyond the reach of divine grace.
No one.
The book is beautifully written, captivating, and thought-provoking. I heartily commend The Secret Thoughts of an Unlikely Convert to you.
You can reach the author at [email protected]. Click here to sign up for the free email sermon.
---
---