Take Up Your Cross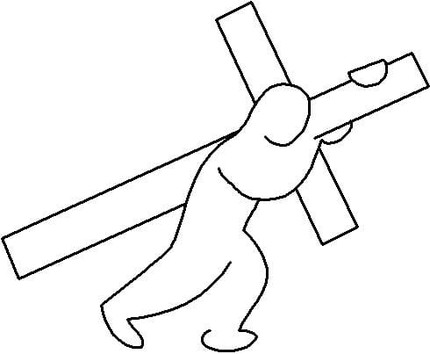 Source: Google Images
"If anyone would come after me, he must deny himself and take up his cross and follow me" (Matthew 16:24).
Every man has a "cross" to bear. It is always "his cross," a unique and very personal set of circumstances.
Carrying that cross requires a personal decision, an initiative, an act of the will.
What sort of man willingly takes up a cross? A fool perhaps, and no one else. At least the man with the cross will always seem foolish to the world.
But Jesus says, "You want to follow me? Fine. Get in line and pick up your cross."
The "cross" is not simply negative circumstances, such as cancer or loss of a job or betrayal by a friend, though these things might be part of it. The "cross" always goes deeper than the pain of life.
The "cross" is the decision to surrender your will to God. Nothing more, nothing less, nothing else. A man must make that decision every day, not merely once during the invitation at a campfire service.
The cross means death to all I hold dear. No decision could be more painful. It means dying to self for Jesus' sake.
After forty years of following Jesus, I realize that I know so little about what this really means. The whole Christian life is a series of small steps toward the cross, carrying the cross, following the Man who died there.
You can reach the author at [email protected]. Click here to sign up for the free weekly email sermon.
---
---