Some Children See Him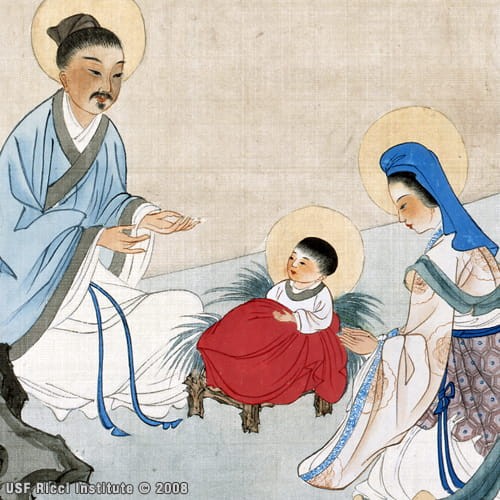 Chinese Nativity scene. Source
"Let the little children come to me, and do not hinder them, for the kingdom of heaven belongs to such as these" (Matthew 19:14).
Our story begins at All Saints Episcopal Church in Pontiac, Michigan. A gifted minister named Bates Burt served as pastor for 25 years. In 1922 he began the practice of writing a Christmas carol each year and sending it to his friends. Year after year people looked forward to the annual Christmas carol.
When his youngest son, Alfred, had finished college, his father said he was handing over the writing of the annual Christmas carol. Starting in 1941, father and son sent out the carols together. After the father's death, Alfred Burt composed the music each year, and longtime family friend Wihla Hutson wrote the lyrics.
In 1951 they collaborated to produce "Some Children See Him." It became an instant hit. The first verse sets the tone:
Some children see Him lily white,
The baby Jesus born this night.
Some children see Him lily white,
With tresses soft and fair.
Some children see Him bronzed and brown,
The Lord of heav'n to earth come down.
Some children see Him bronzed and brown,
With dark and heavy hair.
The final verse brings the truth home:
The children in each different place
Will see the baby Jesus' face
Like theirs, but bright with heavenly grace,
And filled with holy light.
O lay aside each earthly thing
And with thy heart as offering,
Come worship now the infant King.
'Tis love that's born tonight!
Two years after this song was published, Alfred was diagnosed with lung cancer. He died a year later at the age of 33. In his short life, he gave us three carols we still sing today: "Some Children See Him," "Caroling, Caroling," and "The Star Carol."
Alfred Burt and Wihla Hudson had it exactly right. Children do see him in different ways. For 2000 years people have wondered what Jesus looked like. We know he was Jewish and was raised in a workingman's home. But that doesn't tell us anything about his height, his weight, the color of his eyes, the color of the hair, or anything about his distinctive features.
It is no surprise that in various cultures around the world, Jesus often looks like people within those various cultures:
A Chinese Christ.
A Brazilian Christ.
A Haitian Christ.
A Filipino Christ.
A Norwegian Christ.
This is good and right because Jesus belongs to the whole world.
Over sixty years have passed since the writing of "Some Children See Him." The world seems more deeply divided than ever. We need to catch a glimpse of Christ who loves us all, and we need to proclaim that Jesus belongs to everyone, regardless of language, culture, skin color, or nationality.
We're all in the same boat: highly valued, deeply fallen, and greatly loved. Because of Jesus, the things that unite us are greater than the things that divide us. We pray for the love of Christ to spread across our broken world.
Let's listen as James Taylor sings Some Children See Him.
Lord Jesus, give us eyes to see the world as you see it and a heart to love the world as you love it. Amen.
You can reach the author at [email protected]. Click here to sign up for the free email sermon.
---
---