Professor Barkley's Theology Lesson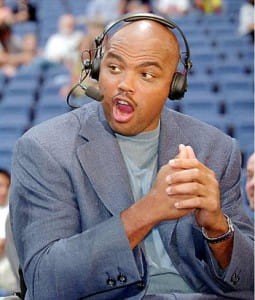 You never know where you'll find some spiritual insight.
I found it while watching former NBA superstar Charles Barkley pontificate during the halftime of a basketball game between the San Antonio Spurs and the Memphis Grizzlies. The Spurs were overwhelming favorites in the best-of-seven series since they were the #1 seed in the West while the Grizzlies barely made the playoffs as the #8 seed.
Plus the Spurs had Tim Duncan whom Barkley called probably the best power forward in NBA history. Add to that the four championships won by the Spurs compared to the fact that the Grizzlies until this year had never even won a playoff game, much less a series, and obviously had never come close to winning a championship.
But things weren't going well for the Spurs. The Grizzlies won the first game at San Antonio. Big upset. The Spurs won the second game. Back home in Memphis the Grizzlies won the third game. How was it that the mighty Spurs were losing to the Grizzlies? Barkley had a ready answer.
"They're old."
"Tim Duncan can't play the same way he did a few years ago. He knows what he needs to do, but he can't do it anymore." Plus the Grizzlies were younger, stronger, and more athletic. (They went on to win the series 4-2).
One of the other commentators chimed in about the Spurs, "Their mind is writing checks their bodies can't cash." One of the guys said he hoped the Spurs would rally one more time.
Barkley shook his head emphatically. "Not gonna happen. They can't do it. They're too old. It happened to me. Happens to everyone sooner or later."
Then came the clincher. "You can't beat Father Time. Father Time is undefeated."
How true that is. Barkley sounded a lot like Moses who said it this way in Psalm 90:12, "Teach us to number our days, that we may gain a heart of wisdom."
Father Time is always undefeated.
So wise up and be smart. Don't waste your life. Find out what matters most and then go and do it while you can. You won't be here forever.
Thus says the Bible and Charles Barkley.
You can reach the author at [email protected]. Click here to sign up for the free weekly email sermon.
---
---