On the Road: No Turning Back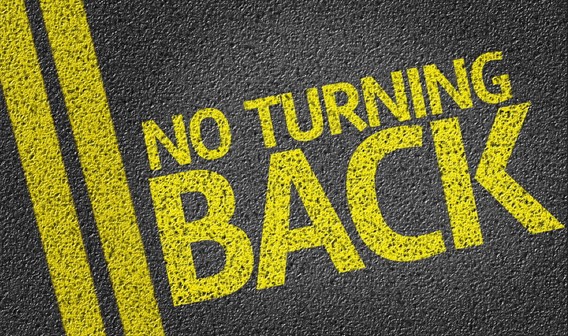 "Still another said, 'I will follow you, Lord; but first let me go back and say goodbye to my family.' Jesus replied, 'No one who puts his hand to the plow and looks back is fit for service in the kingdom of God'" (Luke 9:61-62).
Let's call this fellow the Divided Disciple, which is a contradiction in terms, if you think about it.
In military terms, this man is a weekend warrior. He's ready to serve the Lord but he wants to tie up some loose ends at home first. And his request does seem reasonable. All he wants to do is to say goodbye to his parents, his friends, maybe his girlfriend, and so on. Maybe they will throw him a farewell party and make speeches in his honor. No doubt there will be tears shed and a few people will question his decision. But that's to be expected, isn't it? So why can't he go home and bid his family goodbye?
Evidently this man wanted to keep the back door open. Perhaps he wanted to make a deal to protect his family. Certainly he wanted their approval. None of this is wrong in itself. But remember the words of Jesus in Luke 14:26 "If anyone comes to me and does not hate his father and mother, his wife and children, his brothers and sisters—yes, even his own life—he cannot be my disciple." You can check the word "hate" in the Greek and you'll discover that "hate" is exactly what it means. But the "hate" of this verse doesn't refer to personal animosity. Being faithful to Jesus Christ and following his call on your life may mean you will do things from time to time that seem to your loved ones as if you hate them. You don't hate them at all, but your obedience to Christ may cause them to think that you hate them. Such is the price we all must pay to be a disciple of Christ.
The real meaning of our text is quite plain. Following Jesus is the most important thing in life. Everything else pales by comparison.
It is not an emotional, spur-of-the moment decision.
It is not a decision that can be postponed till later.
It is not a phase we go through while we keep our options open.
Following Jesus means signing away the rights to your own life. You sign on the bottom line and let him fill in the details. It means Jesus first. No conditions. No delays. No buts. No excuses.
Lord Jesus, I pray for the courage to follow you without delay, whatever it costs, no turning back, wherever you lead. Amen.
You can reach the author at [email protected]. Click here to sign up for the free email sermon.
---
---