Korazin: The Danger of Knowing Too Much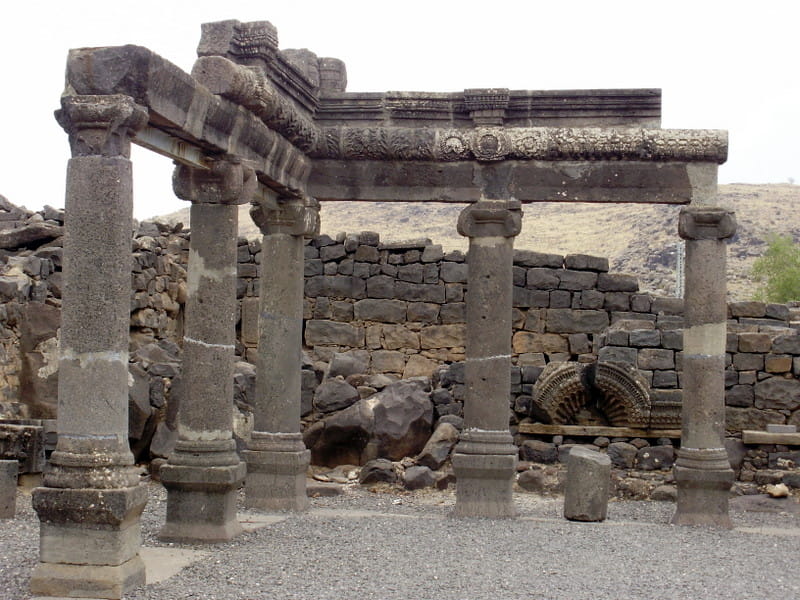 Remains of the synagogue at Korazin.
"Woe to you, Korazin! Woe to you, Bethsaida! If the miracles that were performed in you had been performed in Tyre and Sidon, they would have repented long ago in sackcloth and ashes" (Matthew 11:21).
Once it was an important city, but today it lies in ruins.
Korazin was part of the "Orthodox triangle" in Jesus' day. The other two parts of the triangle were the nearby towns of Bethsaida (home to Peter, Andrew and Philip) and Capernaum. Those three towns were filled with devout Jews who took the Law seriously. During our last visit to the Holy Land, we spent some time visiting Korazin. Unlike many other biblical sites in Israel, there isn't anything else in Korazin.
As we drove through the hills just north of the Sea of Galilee, we rounded a curve and there before were the remains of what once had been a vibrant, vital first-century city called Korazin. We saw the well-preserved remains of the synagogue built after the design of Herod's Temple in Jerusalem. You could easily tell that for the residents of Korazin, religion stood at the center of community life. In fact, the layout of the town placed the synagogue in a prime location. The synagogue contains a "Moses seat" for the men who read from the Torah.
The thought struck me that Korazin must have been a pleasant place to live in the first century. Certainly the ruins suggested that quite a few wealthy people lived there. In the lower section of the town (not all of it has been excavated), you could see more modest homes. No doubt the weather here was agreeable, you could get fish from the nearby Sea of Galilee, and you could easily travel west to Nazareth or around the lake to Tiberius, and for the appointed feasts, you could easily make your way along good roads to Jerusalem.

All in all, Korazin was a fine place to live. Not too large, not too small. Prosperous enough, good location, close to everything that mattered. And the people tended to be observant Jews who wanted to obey the Law of God.
The Lord must have spent a lot of time there. That makes sense because nearby Capernaum was his ministry headquarters. We know he worked many miracles in that region. He also did a lot of teaching in that region.

The people of Korazin knew Jesus, and Jesus knew them.
Jesus worked miracles in Korazin. Note the plural. Miracles. Not just one but many. We don't know which ones because the New Testament doesn't tell us.
Did he give sight to the blind?
Did he cure a sick child?
Did he heal a withered hand?
Did he cleanse a leper?
Did he cause the lame to walk?
Did he cast out demons?
Did he raise the dead?

We don't know, but this much we do know. They heard his words, listened to his message, knew who he was, and they saw the miracles he performed.

And yet they did not repent.
They knew too much and believed too little.
This is a warning for religious people for whom Jesus is optional.
He is not an option.
He is the Lord God of the universe.
Bow down and worship him!

Better not to have a miracle than to have a miracle and not repent.
Better to be sick and not cured than to be cured and not give the glory to God.
Better not to experience God than to experience God and stay the same as you were.
Help me not to take you for granted, Lord Jesus. May my knowledge lead to belief and my belief to worship. Amen.
You can reach the author at [email protected]. Click here to sign up for the free weekly email sermon.
---
---