"I'll Meet You at the Gates of Heaven"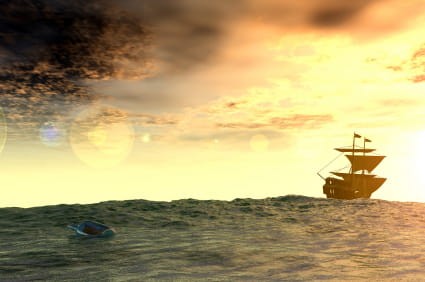 It happens that I am writing this note from our room at Cannon Beach Conference Center on the Pacific Coast of Oregon. Outside my window I can see the ocean that seems to stretch away into infinity.
At the moment I can see no swimmers and in fact there is no one walking the beach because it is early in the morning.
Today the gray sky has lowered until the mist seems to envelop the sea. It's hard to tell where the sea ends and the sky begins. Anyone heading west would soon disappear from sight.
An ocean voyage has often been used as a metaphor for death. You board the ship, set sail, and slowly the ship disappears over the horizon. You know the ship is bound to make harbor on another shore but exactly where is hidden from your view.
So it is when we die.
As we set sail, the land recedes and then vanishes. Suddenly there you are, on the ocean, having left all you have known behind you. But you can't go back, there is no returning to the land of your embarkation. Once the ship leaves, it heads west following the sun.
How do you know you will arrive safely?
It all depends on the pilot.
Does he know these waters?
Has he traveled them before?
Can he navigate the currents?
Will he bring you safely to that distant harbor?
Even the most knowledgeable traveler must trust completely in the pilot. When you leave this life, you leave behind your fame, your money, your degrees, your connections, and everything that gives you status in this world. At the moment of death, the only thing that matters is having a Pilot who can bear you safely to the harbor near the Celestial City, the one with the Golden Gates welcoming you to the New Jerusalem.
Pick the right pilot.
Find someone who has made that journey.
Don't try to navigate those waters alone.
You'll never make it on your own.
I'm thinking about that this morning because my friend Frank Catrambone will be buried today. We first met soon after we moved to Oak Park in 1989. Frank and Lois welcomed us to the church and to the community and opened their arms to take in our whole family. Marlene reminded me that on our first Easter, they invited us to their home in River Forest for a meal. Lois had made Easter baskets for all our boys. It was a special treat that made us feel very loved.
Frank became a dear friend over the years. He was an usher and that's where I saw him almost every Sunday. I've often thought that ushering is about the best job there is in the church. You get to meet everyone, you make the new folks feel at home, you get to march down with the offering plates, and then you stand at the back during the service to make sure everything goes well. If I couldn't be a preacher, I think I'd like to be an usher.
Frank was a great usher. He would smile and say, "Pastor, how are you doing today?" Then he would add, "You're looking great," which always made me feel good. For years he ran a tailoring and tux shop. He fitted all our boys for their proms and homecoming dances.
He and Lois had a happy marriage and a wonderful family. The last few years were quite difficult as his health declined. We saw him in May when Marlene and I dropped by to surprise him. Lois knew we were coming but didn't tell Frank. Though he was weak, he still had a twinkle in his eye. We talked and laughed and he (an avid Cubs fan) told me that he had been going to Wrigley Field since the late 1930s, "even before they had ivy." Every day he listened to the Cubs from his recliner, suffering through every defeat. "I hope I live long enough to see them win the World Series again." Then he smiled ruefully, like a true Cubs fan, knowing that was unlikely to happen.
When Nick was so sick in 2001, Frank prayed and prayed and prayed for him. You don't forget something like that. Frank used to say, "Pastor, I pray for you and your family every night." I never doubted it.
How sweet those memories are.
Mostly I remember this. It was the final Wednesday night supper before my final Sunday as pastor in Oak Park. Everything seemed so heavy with emotion. The meal was over and the clean up had begun. As I was coming out of the kitchen on my way to teach my class, I happened to see Frank so I stopped to chat for moment. With tears in his eyes, Frank told me how sorry he was that we were leaving and how much they would miss us. We talked a bit more about this and that. Then he said to me, "I'll meet you at the gates of heaven."
No one had ever said those precise words to me before.
I couldn't get them out of my mind.
The following Sunday I preached my final sermon as pastor at Calvary Memorial Church. When I got to the end of the message, I told the congregation what Frank had said. And then I ended my sermon this way:
Let that be my final word to you, my beloved congregation. Meet me in heaven. In a little while Marlene and I will be gone, and it may be that some of you we will never see us again in this life. Meet me in heaven. As I take my leave of you, I exhort you with all my heart. Meet me at the gates of heaven!
My friend Frank died on July 3 at the age of 87. After a long life, he boarded the ship that has sailed across the vast ocean to the other side. I have no fears about Frank, no worries whatsoever because he has the Lord Jesus Christ as his Pilot.
Jesus had made that trip many times.
He's never lost a passenger yet.
By God's mercy, Frank Catrambone has made it to the gates of heaven. I look forward to meeting him there.
You can reach the author at [email protected]. Click here to sign up for the free email sermon.
---
---