If Jesus is Alive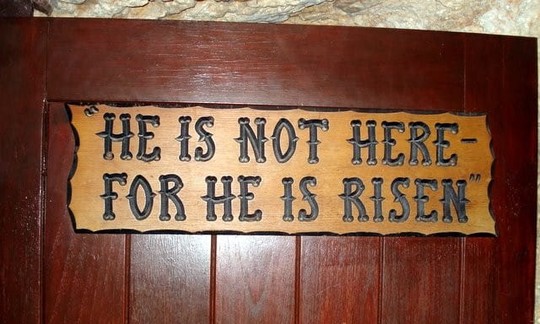 "They stopped walking and looked discouraged" (Luke 24:17).
It is Easter and there is no joy.
Two disciples are on the road to Emmaus, a little village about seven miles from Jerusalem. One disciple is named Cleopas. We do not know the name of the other disciple. As they walk along the dusty road, they leave Jerusalem far behind.
It is noteworthy that when they met Jesus on the road to Emmaus, they did not recognize him. Every part of this story is true to human nature as we know it. There is even a touch of humor in that Jesus is with them and they think he's dead. As they walked with the stranger, they said, "He used to do this" and "You should have been there" and "He could walk on water!" and "He was so kind" and "We never met anyone like him" and, finally, "I can't believe he's gone."
They felt their faith slipping away with every step on the road to Emmaus. They had heard the rumors of an empty tomb, but what did that mean? No one had seen Jesus yet, or so they assumed. There comes a time in life when you have to face the facts and deal with reality. So ends the sad tale of Jesus, a story that had such a promising beginning. They believed in Jesus, and he let them down. The third day was almost gone and Jesus was nowhere to be found. Bring down the curtain, it's all over now.
This is what Good Friday looks like without Easter. Without the resurrection, the cross is nothing but a tragedy, a story without a moral, a drama that ends before the final act.
Jesus used the Old Testament to show them how the whole Bible testifies to him. If you want to find Jesus, just open your Bible because the whole book is about him. If you want to understand the Bible, look for Jesus. He's there on every page. The whole purpose of the Bible is to point us to Jesus. He's the theme of every book from Genesis to Revelation.
After Jesus revealed himself to them, the two disciples couldn't wait to get back to Jerusalem. Even though it was late in the evening, they had to go back and tell the others what they had seen and heard. Once you encounter Christ, nothing will ever be the same again.
If Jesus is alive, there's no time to waste.
If Jesus is alive, everything we believe is true.
If Jesus is alive, death has been defeated.
If Jesus is alive, we are not alone.
If Jesus is alive, our sins are forgiven.
We all live somewhere between Good Friday and Easter Sunday. We are on the long Emmaus Road journey together. There are times when we feel alone and overwhelmed. Doubts creep in, our heart gives way, and we feel like we can't go on. Then Jesus comes to us and says, "You are not alone. You never were alone. Even when you thought were alone, I was with you every step of the way."
Child of God, behold the risen Christ! You can never be alone again.
Every Easter we celebrate the great triple truth of this holy day:
The tomb is empty.
Jesus is alive.
We are not alone.
He is risen! He is risen indeed!
Father, we thank you that the tomb is still empty because Jesus is alive today. Let faith rise to banish our fears. Thank you that death has been defeated. May those who doubt, doubt no more. Through him and to him who is the resurrection and the life, even Jesus Christ our Lord, Amen.
You can reach the author at [email protected]. Click here to sign up for the free email sermon.
---
---