How Jesus Restored Peter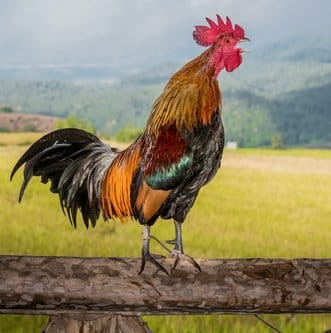 "Then the Lord turned and looked at Peter. So Peter remembered the word of the Lord" (Luke 22:61).
There were four steps in Peter's return to the Lord:
1. The Rooster's Crow.The gospels are unanimous on one point. The rooster crowed at the exact moment of Peter's third denial. As the foul words flew out of his mouth—at that very instant—from somewhere off in the distance a rooster began to crow.
The rooster crowed, and Peter remembered. William Hendriksen put it this way, "This hidden memory will pull the rope that will ring the bell of Peter's conscience." Suddenly it all became clear. How rash he had been only six hours earlier, how cocky he had been, how confident of his own strength, how sure of his own abilities. The sound of the rooster meant, "Peter, I warned you this would happen and you didn't believe me."
2. The Look of Jesus. Luke's account of this story contains one detail the others omit. Luke 22:61 says that when the rooster crowed, "The Lord turned and looked straight at Peter."Since this was the middle of the night, it must have happened just as the guards were taking Jesus from his interview with Caiaphas to his trial before the Sanhedrin. Evidently the guards were leading Jesus through the courtyard just as Peter denied Christ for the third time. At that moment Peter cursed, the rooster crowed, Peter looked up and saw Jesus looking directly at him. By this time Jesus' face is black and blue, his eyes almost swollen shut, his cheeks bruised and covered with spittle. A trace of blood trickles from his lips. Even though it is after midnight, Peter can see him perfectly in the firelight.
He doesn't say a word. He looks at Peter who has denied him for the third time. Everything has happened just as he predicted.
It was a convicting look. "You said you did not know me. Look at me, Peter. Look at me. Do you not know me?"
It was a compassionate look. "Peter, how weak you are. Now you know that without me you can do nothing."
It was a commissioning look. "Weep, Peter, and remember your words. Then go and strengthen your brothers."
3. The words of Jesus.Matthew, Mark and Luke all stress that when the rooster crowed, Peter remembered the words of Jesus. It was this memory more than anything else that brought Peter back to God. Those words had lodged themselves deep within the crevasses of Peter's mind. So much had happened in those few hours that Peter had forgotten. But at the opportune moment, he remembered what Jesus had said.
4. Peter's tears. The words used mean that Peter wept bitterly. They are a sign of his deep repentance. He realized at last what he had done, how far he had fallen, how his denials had hurt the Lord.
But Judas also wept. His tears led to suicide; Peter's tears led to repentance. Tears are good if they lead to a new devotion to Jesus Christ and a new determination to serve him. We may weep and weep, but if our hearts are not made tender and open before the Lord, our tears do us no good. For Peter, his tears signaled the breaking of his heart because of his sin. As the Psalmist said, "A broken and contrite heart, O Lord, you will not despise." (Psalm 51:17)
One final point. Where did this story come from? How did it get in the Bible? It could only have come from Peter. No one else was there to tell what happened.
We wouldn't have done that. We hide our mistakes to make sure no one finds out about them. Not Peter. Once he was restored, he couldn't stop talking about what Jesus had done for him.
The real hero of Peter's story isn't Peter.
It's Jesus.
My Lord, thank you for never giving up on me even when I've given up on myself. Amen.
You can reach the author at [email protected]. Click here to sign up for the free email sermon.
---
---