God Rest Ye Merry, Gentlemen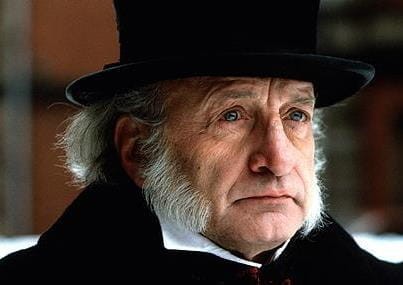 George C. Scott as Ebenezer Scrooge
"I bring you good tidings of great joy" (Luke 2:10 KJV).
Ebenezer Scrooge didn't like this carol.
In a funny scene from A Christmas Carol, Charles Dickens imagines a caroler singing "God Rest Ye Merry, Gentlemen" at the door of Ebenezer Scrooge, who grabs a ruler and chases the singer away. Dickens puts it this way:
Scrooge seized the ruler with such energy of action that the singer fled in terror, leaving the keyhole to the fog and even more congenial frost.
This carol was published in Britain in 1833, but even then it was called an "ancient carol, sung on the streets of London." No one knows who composed it. A version of it seems to have existed as early as the 16th century. One can easily imagine villagers singing and dancing to this lively tune. During Queen Victoria's reign in the late 1800s, it became part of the Anglican hymnbook and soon spread around the world.
Many people miss the meaning of the first line because they leave out the comma between "merry" and "gentlemen." This is not a song about "merry gentlemen," but rather an exhortation to godly men. The word "merry" originally meant strong or valiant, as in Robin Hood and his "Merry Men," meaning his strong, brave men. The word "rest" meant to make. So the first line means, "God make you strong and valiant, gentlemen." That explains the second line, "Let nothing you dismay." What is it that makes us strong in the face of the struggles of life and our repeated failures? "Remember Christ our Savior was born on Christmas Day."
The whole essence of the gospel is in the opening verse:
God rest ye merry, gentlemen,
Let nothing you dismay,
Remember Christ our Savior
Was born on Christmas Day;
To save us all from Satan's power
When we were gone astray.
O tidings of comfort and joy, comfort and joy;
O tidings of comfort and joy.
In contrast to many traditional carols with a somber tone, this one is exuberant. It calls us to celebrate the good news of Christmas. No wonder it has endured for so long. I particularly love this line that explains why Christ came: "To save us all from Satan's power when we were gone astray." We have all gone astray, often repeatedly and foolishly, and we have suffered because of it. Jesus came to save us from Satan's power that pulls us continually in the wrong direction. In the spirit of the title, we should wish each other not only a "Merry Christmas," but also a "Mighty Christmas" because Christ has come to make us strong in the Lord.
Old Scrooge was wrong about this song. We ought to sing it every year.
Here is a beautiful version sung by the Bach Choir: God Rest Ye Merry, Gentlemen
Deliver us from evil, O Lord, so our hearts may truly be merry today. Amen.
You can reach the author at [email protected]. Click here to sign up for the free email sermon.
---
---