Go Tell It on the Mountain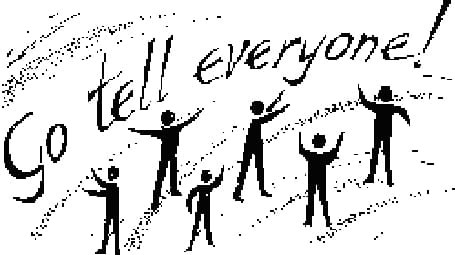 "You who bring good news to Zion, go up on a high mountain. You who bring good news to Jerusalem, lift up your voice with a shout, lift it up, do not be afraid; say to the towns of Judah, 'Here is your God!'" (Isaiah 40:9 NIV).
John Wesley Work wanted to make sure we knew this song.
Generally regarded as the first African-American collector of folk songs and spirituals, he traveled the length and breadth of Appalachia, collecting and arranging the music he found in those mountains. When he published New Jubilee Songs and Folk Songs of the American Negro in 1907, he included "Go Tell it on the Mountain." Historians say the tune is similar to the spiritual "We'll March Around Jerusalem" and "Oh, Susanna."
The Reader's Digest Merry Christmas Songbook tells the following story:
"To black slaves in the United States, the birth of a Savior who would set all men free was a miracle to be sung about. And when there was something so notable to tell, what better place to tell it from than a mountain, just as Jesus had chosen for His Sermon on the Mount. "Go Tell It on the Mountain," an authentic spiritual that dates probably from the early 1800s, was first popularized in 1879 by the Fisk University Jubilee Singers. This chorus traveled throughout the United States and Europe at the end of the last century, earning scholarship-fund money for Fisk, a school founded to educate freed slaves."
Here are the joyful words of this spiritual:
While shepherds kept their watching
O'er silent flocks by night,
Behold throughout the heavens
There shone a holy light
Chorus:
Go, tell it on the mountain
Over the hills and everywhere
Go, tell it on the mountain
That Jesus Christ is born.
The shepherds feared and trembled
When lo! above the earth
Rang out the angel chorus
That hailed our Savior's birth;
Down in a lowly manger
The humble Christ was born;
And God sent us salvation
That blessed Christmas morn.
"Go Tell it on the Mountain" means, "Don't keep it a secret. Go tell everyone, everywhere, Jesus Christ is born."
Christ has come!
The King has arrived!
God has moved into our neighborhood!
Go tell the whole world.
Today we get a treat—two songs in one. I found a version of "Mary Had a Baby" and "Go Tell it on the Mountain" by Vanessa Williams that captures the essence of these two great spirituals. Enjoy!
Heavenly Father, help us to do as the song says, and go spread the Good News that Jesus Christ is born. Amen.
You can reach the author at [email protected]. Click here to sign up for the free email sermon.
---
---