Five Books We've Talked About on the Radio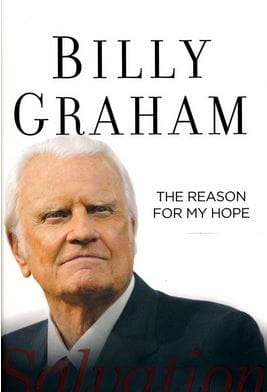 Most of you know that I am a regular co-host of "Today's Issues" on American Family Radio. During each program we interview some of America's best authors. Here are brief notes on five books we have discussed lately.
The Reason for My Hope by Billy Graham. Franklin Graham told us he thought this was his father's best book. The Reason for My Hope explains the gospel message that Billy has preached for the last 70 years. Would be a great gift for someone who needs to know the Lord.
Limitless Life by Derwin Gray. This former NFL star became a church planter in North Carolina. His book encourages people to let go of their past and become wholehearted followers of Jesus. An inspiring read.
Writing from Left to Right by Michael Noval. The subtitle tells the story: "My Journal from Liberal to Conservative." He was in the middle of many of the most important events and knew most of the key players from the 1960s through the 2000s. A wonderful memoir told with verve, wit, and deep faith in God.
Winning the Food Fight by Steve Willis. Could a whole town go on a diet? That's what happened when a famous chef teamed with a local pastor in Huntington, West Virginia. You'll discover how a whole city got healty and how the same thing can happen to you.
Faith Under Fire by Andrew White. He pastors an Anglican congregation in Baghdad. During our interview he shared amazing stories of what God is doing in that war-torn land. He lived through the war and the aftermath. Read Faith Under Fire and prepare to be amazed.
---
---