Download Free eBook: "And When You Pray"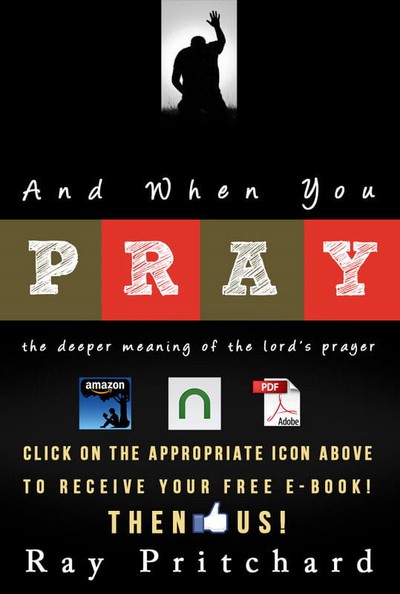 I'm pleased to announce the release of our newest free ebook. You can download my book And When You Pray: The Deeper Meaning of the Lord's Prayer in Kindle, Nook, and PDF formats. Click on the link to download your free ebook.
Please note that the free version is only available at the KBM website. If you go to the Kindle store or the Nook store, you'll have to pay for it. But we believe so much in the message of this book that we're making it available for free on our website.
When I first preached through the Lord's Prayer, I discovered what Christians have known for centuries. This is truly a prayer for all occasions. It is so simple that a child can understand it but so deep that you can study it for a lifetime and never come to the end of it.
Here are the chapter titles:
1. Invitation to the Heart of God
2. God Our Father
3. Taking God Seriously
4. Kingdoms in Conflict
5. Nothing More, Nothing Less, Nothing Else
6. Daily Bread Living
7. Unless You Forgive
8. Does God Lead His Children into Temptation?
9. Deliver Us From Evil
10. Praying From the Footnotes
A Final Word
Epilogue: Singing Through the Lord's Prayer
The book contains a built-in study guide with question embedded in each chapter and additional questions at the end of each chapter. The questions make the book very suitable for Bible study groups, discipleship groups, and Sunday School classes.
I actually wrote the Epilogue on "Singing Through the Lord's Prayer" after the manuscript had been turned in. But I felt so strongly about it that the publisher agreed to include it.
Because the book is out of print, the only printed copies are quite expensive. We're hoping to acquaint a new audience with the deeper meaning of the Lord's Prayer by giving away the free ebook.
Just go to our digital download page, look for the image you see above this blog entry, and then download the version you want. It's as simple as that.
And if you'd like to help us out, help us spread the word about this new ebook version of "And When You Pray."
Note: If that link doesn't work for you, try this one instead.
---
---