Balaam: A Star from Jacob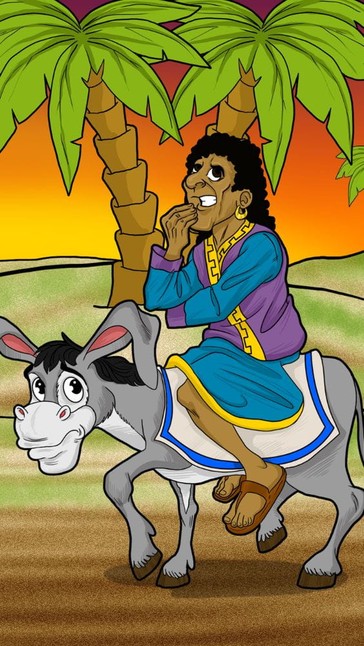 Photo credit: Bible Pathway Adventures
"A star will rise from Jacob; a scepter will emerge from Israel" (Numbers 24:17).
Let's begin with the one thing people know about Balaam. He had a talking donkey. You can read about it in Numbers 22:21-30 and 2 Peter 2:16. That by itself is amazing if you think about it.
But there's much more. Balaam was a diviner who claimed to have special knowledge from God. Today we would call him a false prophet because he served the pagan religions. To make this more interesting, he appears on the biblical scene because the King of Moab offered him money if he would pronounce a curse on the Israelites. You can read about that in Numbers 22:1-17. Like all earthly potentates, he thought his money would buy him whatever he wanted. But God intervened and instructed Balaam not to curse Israel.
By the time you get to the New Testament, the "way of Balaam" becomes a synonym for someone who would sell his soul for money (2 Peter 2:15).
I'm summarizing a great deal here, and I hope you'll read Numbers 22-24 because this story illustrates that God can use anyone he chooses, even a false prophet like Balaam. D. L. Moody liked to say that "God can hit a straight lick with a crooked stuck." Balaam proves the point. He was not a godly man, but God used him to pronounce a blessing on Israel. That's where our story takes a fascinating turn. In Numbers 24:17 Balaam delivers the King of Moab a message from the Lord:
"I see him, but not here and now.
I perceive him, but far in the distant future.
A star will rise from Jacob;
a scepter will emerge from Israel."
Balaam didn't know it, but he was talking about Jesus. These words were fulfilled many centuries later when a baby was born in Bethlehem who was called "king of the Jews" (Matthew 2:1-2). That rattled Herod, who thought he was the only "king of the Jews." The angel Gabriel explained it to Mary this way:
"He will reign over the house of Jacob forever, and of his kingdom there will be no end" (Luke 1:33).
Jesus has a kingdom.
He is building it in human hearts around the world.
Someday he will return and visibly reign on the earth.
That kingdom—his kingdom—will never end.
Here is my final appeal to you. Everyone reading my words has a choice to make. Either you join yourself to the kingdoms of this world that are doomed to fail. Or you join forces with Jesus Christ and follow him as your Savior and Lord.
His kingdom will never end. Why would you follow anyone else?
Sovereign Lord, you are the solid rock beneath our feet. We trust in you, and we will not be moved. When the kingdoms of this earth have crumbled to dust, your words will still be true. Amen.
Musical bonus: Today we have a special treat as Francesca Battistelli sings The First Noel and What Child is This.
You can reach the author at [email protected]. Click here to sign up for the free email sermon.
---
---