Faithful Witness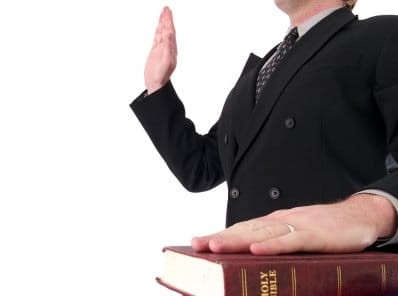 "Jesus Christ, who is the faithful witness" (Revelation 1:5).
The men and women of this generation have heard the name of Jesus many times. What they want to know is very simple: "Can I trust him?" In a world of religious charlatans, this is where we must begin. This verse calls Jesus "the faithful witness." A witness tells what he has seen or heard. A faithful witness is one whose testimony is reliable every time.

John means that Jesus Christ can be relied upon to tell the truth. When he speaks, he speaks only the truth. His words are absolutely true and authoritative. 1 Timothy 6:13 speaks of "Christ Jesus, who while testifying before Pontius Pilate, made the good confession." What did he say when he stood before Pilate? "I came into the world to testify to the truth. Everyone on the side of truth listens to me" (John 18:37). Jesus Christ is the supreme truth-teller, and those who want to find the truth must listen to him.

I love this statement by John Watson:
"No one has yet discovered the word Jesus ought to have said, none suggested the better word he might have said. No action of his has shocked our moral sense. None has fallen short of the ideal. He is full of surprises, but they are all the surprises of perfection."
Every person has to deal with this fundamental issue about Jesus–Can I trust him? Some people will answer yes, others will say no. Until this issue is settled, there is no point in talking about anything else.

Let's suppose you don't want to take my word for it. Read the record for yourself. Take 30 days to read Matthew, Mark, Luke and John in the New Testament. Read the story for yourself and come to your own conclusions. Let me tell you what I believe will happen. If you read with an open mind and an open heart, you will come to the conclusion that what Jesus said is true, that he is the truth, and that his word can be eternally trusted.

I am not saying anything to try to prove it to you. I simply challenge you to read it for yourself. Make up your own mind. When you do, you will find that he is entirely trustworthy.
Lord Jesus, you are the truth and you bear witness to the truth. May I be a faithful witness for you in the eyes of the watching world. Amen.
Click here to download the free Lenten ebook "Lord of Glory."
You can reach the author at [email protected]. Click here to sign up for the free email sermon.
---
---