13 Good Books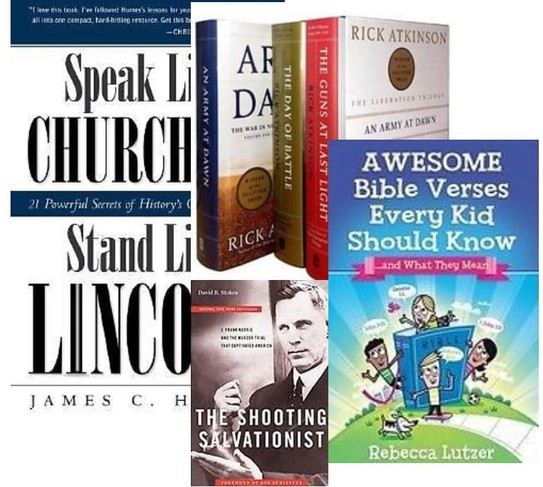 Here's a list of some of the best books I've encountered in 2013. These are either books I've read or authors I've interviewed on American Family Radio. These are not necessarily Christian books, but all are well-written and worth reading.
Needless to say, these books would make excellent Christmas gifts.
Awesome Bible Verses Every Kid Should Know by Rebecca Lutzer. The title explains it all. Here's an excellent way to share biblical truth with the children in your life.
Nearing Home: Faith, Life, and Finishing Well by Billy Graham. In this book Billy Graham frankly shares that he never expected to live into his 90s. His faith, humility, and love for the Lord shine through on every page.
C. S. Lewis–A Life: Eccentric Genius, Reluctant Prophet by Alister McGrath. Perhaps the best recent biography of C. S. Lewis. McGrath unearths previously unknown details of Lewis's life.
The Liberation Trilogy Boxed Set by Rick Atkinson. This boxed set actually contains three books that trace the Allied victory in Europe in World War II. The first book ("An Army at Dawn") won the Pulitzer Prize. Would make an ideal gift for a World War II history buff.
Double-Cross: The True Story of the D-Day Spies by Ben Macintyre. The amazing story of how the Allies tricked the German High Command in the days leading up to the Normandy invasion on D-Day in 1944. A crackling good read.
Preaching? Simple Teaching on Simply Preaching by Alec Motyer. Can preaching be fun? Alec Motyer makes it seem that way. This is best book on preaching I read this year.
Speak Like Churchill, Stand Like Lincoln by James C. Humes. Written by a former presidential speechwriter, this book contains tips on public speaking I've never found anywhere else. I learned much from reading it twice.
Iran and Israel: Wars and Rumors of War by Mark Hitchcock. A timely look at the Middle East crisis by a veteran author on Bible prophecy. Could have been ripped from today's headlines.
Unseen: Angels, Satan, Heaven, Hell, and Winning the Battle for Eternity by Jack Graham. An engaging look at what the Bible really says about the unseen realm. Biblical truth presented in an easy-to-read fashion by one of America's leading pastors.
Writing from Left to Right: My Journey from Liberal to Conservative by Michael Novak. During his very active life, Michael Novak knew many of the leading figures of the last half-century. He is a faithful witness to the tumultuous events of the last 50 years. Very well done.
Every Day by the Sun: A Memoir of the Faulkners of Mississippi by Dean Faulkner Wells. A lovely memoir by the niece of William Faulkner. Fans of the great writer will enjoy this inside look.
One-Way Love: Inexhaustible Grace for an Exhausted World by Tullian Tchividjian. This book by Billy Graham's grandson (and an outstanding pastor in his own right) shows that grace means God doesn't have us on a performance standard. What God demands, he supplies through Christ. That's a truth that never grows old.
The Shooting Salvationist: J. Frank Norris and the Murder Trial that Captivated America by David R. Stokes. A rollicking good read about the 1927 murder trial of the man they called "the Texas Tornado." At the time of his trial, he pastored one of the largest churches in America. This story is hard to believe, but it really happened.
You can reach the author at [email protected]. Click here to sign up for the free email sermon.
---
---