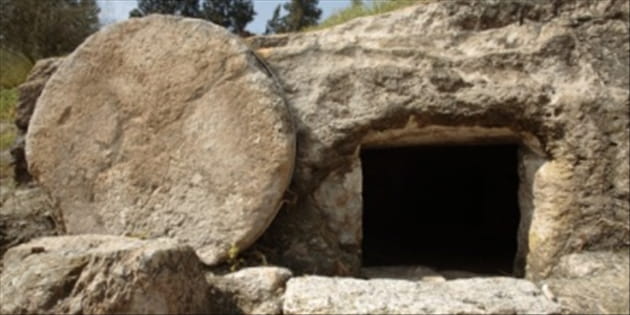 The Meaning of the Cross
What do the cross and resurrection mean for us? First, let's look at the cross. Historically, Christians use seven major words to summarize the Bible's teaching on what happened when Jesus died. They help us to understand how spiritually poor we are by nature and how rich we can become by the grace of our Lord Jesus Christ.
1. Substitution
The basic meaning of the word is very straightforward and in relation to the death of Jesus is extremely important. This comes across powerfully when we read that 'Christ died for sins once for all, the righteous for the unrighteous, to bring you to God' (1 Peter 1:18, NIV, emphasis added). As another New Testament writer puts it, 'He laid down his life for us' (1 John 1:16, emphasis added). The Bible tells us that death is the result of sin; so how could Jesus die when he did not have a sinful nature and never committed sin of any kind? The Bible's answer is that in his death Jesus was bearing sin's penalty (which he did not deserve) in the place of others (who did). His death was certainly an impressive example of meekness, forgiveness and faith, but it was much more than that. Neither setting the finest example nor following it can make sinners right with God. As the British preacher John Stott says, 'A pattern cannot secure our pardon.'11 Jesus was more than an example; he was a substitute, taking the place of those whose sin leaves them spiritually bankrupt and exposed to God's righteous anger. In the most amazing act of love ever known, Jesus endured sin's ultimate penalty in the place of even the worst of his enemies.
2. Propitiation
This is not an everyday word, but it is vitally important that we understand it. 'Propitiation' means appeasing an offended person by paying the penalty he demands for the offence. This enables him to receive back into his favour the person who committed the offence. In the New Testament the original Greek word for 'propitiation' is sometimes translated 'atonement'. This is easier to understand, as to 'atone' means to deal with an offence so that the offender and the person offended can be 'at one'. This is what Jesus did in dying on behalf of others: 'In this is love, not that we have loved God but that he loved us and sent his Son to be the propitiation for our sins' (1 John 1:10).
Many people think of God only as a God of love, always on hand to help when things go wrong and bound in the end to forgive everybody's sins and receive them into heaven for ever. This idea is fatally misleading. The Bible certainly tells us that 'God is love' (1 John 1:8), but also that he is 'majestic in holiness' (Exodus 15:11) and that 'the wrath of God is revealed from heaven against all ungodliness and unrighteousness of men' (Romans 1:18). A few years ago it was all the rage for some Christians to wear a badge saying, 'Smile, God loves you', but, as a friend of mine said at the time, 'It would be more truthful to wear one saying, "Frown, you're under judgement."'
Jesus showed the cost of being the propitiation for sin when on the cross he cried out, 'My God, my God, why have you forsaken me?' (Matthew 27:46). Only hours before, when his closest friends were about to desert him, he had assured them, 'I am not alone, for the Father is with me' (John 16:32). Yet in his dying moments that assurance was gone. Why? Christians often have a joyful sense of God's presence as they die, yet for Jesus exactly the opposite was true because at that moment he was experiencing not merely physical death but spiritual death. As the Bible puts it, 'God made him who had no sin to be sin for us, so that in him we might become the righteousness of God' (2 Corinthians 2:21, NIV, emphasis added). God has 'zero tolerance' of sin, and his holiness demands that all sin be punished. When Jesus became accountable for the sins of others he was punished as though he had committed them, and he bore that punishment both in his body and in his soul. When Jesus cried that he had been forsaken by God the Father, it did not mean that the Father was not there (as God is always everywhere), but that he was not there to strengthen, comfort and bless him. Instead, in his righteous anger against sin, God the Father deserted, rejected and punished him. As the American theologian R. C. Sproul puts it, at that moment the figure of Jesus on the cross 'was the most grotesque, most obscene mass of concentrated sin in the history of the world'. 12