THE THANKSGIVING FACTOR
In everything give thanks; for this is God's will for you in Christ Jesus.
1 Thessalonians 5:18
In the classic autobiography, The Hiding Place, Corrie ten Boom tells of her sufferings at the hands of the Nazis during the evil reign of Adolph Hitler. Corrie and her sister, Betsie, were incarcerated at the Nazi concentration camp, Ravensbruck, and experienced terrible atrocities there. On one occasion, they were forced to disrobe before the German soldiers. In that awful, humiliating moment, an amazing discovery came to Corrie's mind: "They took Jesus' clothes too. He hung naked for me." When she relayed that wondrous thought to Betsie, she gasped and said, "Oh, Corrie, and I never thanked Him for it."
One of the things that made Corrie and Betsie such dynamic Christians was the fact that the chose to see life from God's perspective. In the worst of situations, they found new insights to praise and thank God.
The Bible tells us that we are to give thanks in everything, the good things AND the bad things. In Psalm 50:23, God says, "He who offers a sacrifice of thanksgiving honors Me." In the hard times, thanksgiving is difficult. It is definitely a sacrifice to thank God in a Nazi concentration camp, but it is so very necessary. Thanksgiving honors God, and when you and I honor God, He honors us (1 Samuel 2:30).
How is your thanksgiving factor? Are you facing tough times? Have you been griping and complaining about the things in your life that are hard, lonely and frustrating? Why not try praising and thanking God for your difficulty. He knows about it, He is over it, and He cares for you. Without question, He has a purpose in every trial and tribulation. Start today to live a life of thanksgiving. If you will do it, I promise you on the authority of the Word of God, your attitude will change, the people around you will be blessed, and Jesus Christ will be glorified and honored.
Hoping you have a Happy Thanksgiving!
Jeff Schreve founded From His Heart Ministries, www.fromhisheart.org, in 2005 with the vision to reach as many people as possible with the good news of God's love. Jeff believes that no matter how badly you may have messed up in life, God still loves you and has a great plan just for you. He broadcast on radio, TV and in the internet around the world from his pulpit ministry as Pastor of First Baptist in Texarkana, Texas. This ministry is completely listener/viewer supported. It continues only through the faithful and generous gifts of people like you. Pastor Jeff takes no income from this ministry. All gifts go to further the broadcast.
SPECIAL OFFER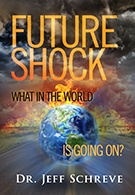 Future Shock: What in the World is Going On?
DESCRIPTION: Wars, terrorism, earthquakes, famines, floods, rapid technological advancements, a falling away from the true faith… what in the world is going on? What is coming next? Is the end really drawing near, and if so, what does it look like? In this frank and powerful series, Dr. Jeff Schreve shares biblical insights concerning the present age and the not too distant future.