October 18
He who dwells in the shelter of the Most High Will abides in the shadow of the Almighty. I will say to the LORD, "My refuge and my fortress, My God, in whom I trust!" - Psalms 91:1-2
Anxiety disorders cost Americans more than $40 billion annually. Anxiety disorders manifest themselves in two ways—specific phobias, like fear of spiders or flying, and social phobias, fear of scrutiny, embarrassment or humiliation in the eyes of others. We fear being exposed to threats and we fear our flaws being exposed to other people. Lurking in every person's sub-conscious is the dread of ultimate exposure before God in judgment. But to be in God is to be inside the refuge nothing can penetrate. 
Click here to sign up for your free Winning Walk newsletter!
---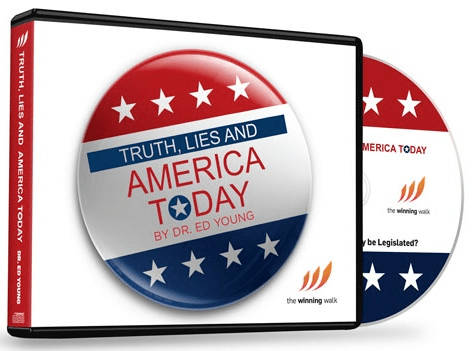 We've been told lies as a society, and many of us – even believers – have come to accept them as truth.
 
Dr. Ed Young exposes many of these lies in his 3-message CD series 'Truth, Lies, and America Today.'

You'll hear about steps you can take to:
       •Reestablish God's truth in your home and community
       •Rebuild our nation's moral foundation
       •Restore hope for future generations  

'Truth, Lies, and America Today' is our gift to thank you for your first monthly gift as a Winning Walk Pacesetter.
 
The faithful support of Pacesetters is crucial for helping proclaim proven truth on radio, television, and the internet – so please prayerfully consider becoming a Pacesetter today.
 
When you do, we'll send you 'Truth, Lies, and America Today' to help stand against the lies of our culture with the proven truth of God's Word.
 
We're so grateful for your partnership!