A Principle of Guidance
 "Give us this day our daily bread." - (Matthew 6:11)
When Jesus taught His disciples how to pray He gave them a principle that has many applications. At the end of this chapter, which records the central part of His great Sermon on the Mount, Jesus stated that we should not worry about tomorrow. Many have made that obvious application to this prayer petition. People with tragic challenges like addictions or overwhelming suffering are only able to get their heads and hearts around the concept of a solution one day at a time.
Another legitimate application of this principle for living is to apply this concept to divine guidance. In the third chapter of his letter to the Philippians, the Apostle Paul wrote that one way to discern the will of God for our life is to live up to the light we now have. He promises that as we do, God will give us more light. To illustrate that concept someone has said "If you want to see further ahead into the will of God for your life then move ahead into the will of God for your life just as far as you can see."
When I was a college student I drove across the United States several times. I drove at night because there was less traffic. My headlights illuminated about 100 yards at a time. I discovered that if I kept driving into the light the headlights gave me, I eventually traveled from Pittsburgh to Los Angeles.
It is easier for God to steer a moving vehicle than one that is stationary. As we respond to the light God is giving us He adds more light to our path. The application of that principle leads us into His will one day at a time.

---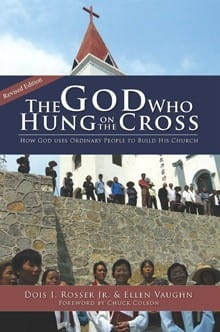 Free Book: The God Who Hung on the Cross
This newly revised paperback edition features reflections on 25 years in ministry by Dois Rosser. The book details the history and vision of ICM, the parent organization for the Mini Bible College, and the vehicle for distributing MBC to congregations around the world. Dois' story is an inspiration, encouraging Christians to give of their time and resources to experience the abundant power of God at work. Journey around the world with Dois and discover that you too can be a part of something bigger than yourself!