When God Wants to Do a New Thing
…"But he brought us out from there to bring us in …" — (Deuteronomy 6:23 NIV)
God often wants to do a new thing in our life. This strategy of God is profiled in the verse quoted above where we read that He brought them out (of Egypt) that He might bring them in (to the Promised Land of Canaan.)
When He wants to do a new thing in our life He has three challenges. First He has to get us out of the old so He can lead us into the new thing He has for us. That's not easy because we are creatures who are bound by security issues and we don't want to come out of the old. He, therefore, sometimes has to blast us out of the old so He can bring us into the new thing. That is why the will of God often involves a pull from the front and a boot from the rear.
His next challenge is that he has to keep us going so he can pull us through the transition time between the old and the new. Transitions are hell and so we need a lot of grace to get through our transition times. This is especially true when the transitions may involve years of time.
His third challenge is that He has to get us right so He can settle us into the new thing He has for us. This could happen because we are burned out in a dead end job of an old place and He has something much better for us. There are many reasons why God may want to do a new thing in your life. Will you cooperate with Him as He works you through those three challenges?

---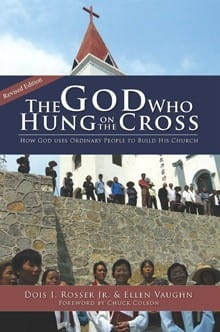 Free Book: The God Who Hung on the Cross
This newly revised paperback edition features reflections on 25 years in ministry by Dois Rosser. The book details the history and vision of ICM, the parent organization for the Mini Bible College, and the vehicle for distributing MBC to congregations around the world. Dois' story is an inspiration, encouraging Christians to give of their time and resources to experience the abundant power of God at work. Journey around the world with Dois and discover that you too can be a part of something bigger than yourself!