A War Between Spirit and Flesh
 "Now the works of the flesh are…but the fruit of the Spirit is love, joy, peace, patience, kindness, goodness, faithfulness, meekness and self-control." - (>Galatians 5: 19, 22, 23)
One of the most important New Testament passages of Scripture is found in Galatians chapter five where Paul identifies a war that is taking place in the life of every authentic disciple of Jesus Christ: the war between the flesh and the Spirit. The flesh is "human nature unaided by God." According to Paul our human nature unaided by God is a monster and it produces what Paul labels "the works of the flesh."
In contrast to a list of qualities that are like an immoral "train wreck" in slow motion, Paul gives us nine qualities that are the fruit, or evidence, of the reality that the Holy Spirit of God lives in us.
When we look in, Paul writes that we will find that we have a quality of love coming out of our life. We will also find a quality of joy and a peace we've never experienced before.
For a cross section of this love we should consult verses 4-7 of first Corinthians 13. We find it is a love that doesn't make good sense because it is completely others centered. This joy is a happiness that doesn't make good sense and the same could be said of our peace because all three are not related to our circumstances.
There is something to believe and Someone to receive. It is only when we receive His Spirit that we can win the war between the flesh and the Spirit.

---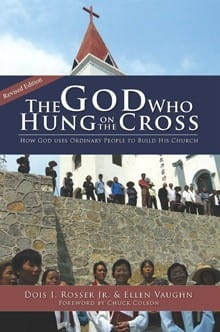 Free Book: The God Who Hung on the Cross
This newly revised paperback edition features reflections on 25 years in ministry by Dois Rosser. The book details the history and vision of ICM, the parent organization for the Mini Bible College, and the vehicle for distributing MBC to congregations around the world. Dois' story is an inspiration, encouraging Christians to give of their time and resources to experience the abundant power of God at work. Journey around the world with Dois and discover that you too can be a part of something bigger than yourself!