A Second Life Verse
 "You did not choose me, but I chose you and appointed you to go and bear fruit — fruit that will last. Then the Father will give you whatever you ask in my name." (John 15:16)
Hours before Jesus was arrested and then crucified He held a retreat with the men He had apprenticed 24/7 for three years. It was in that setting He spoke the words written above.
His words must have come as a shock to them because they had chosen Him and made many sacrifices as they followed Him. But He is telling them here that He chose them and appointed them to go and bear fruit that lasts. A paraphrase of the closing sentence in this great verse is that when they understood this God would answer their prayers.
This has become a life verse for me in recent years as I have looked back in an attempt to understand why God would permit me to suffer the loss of my faculties and become a bedfast quadriplegic. I now realize that if it had not been for these limitations I never would have produced my life's work of 782 radio programs or studies that I call "The Mini Bible College." These studies are now in 26 languages in 53 countries.
This is the fruit that lasts the risen Christ wanted to grow in my life. As a normal mobile disciple I would not have had the discipline to write these studies. I therefore see my limitations as the cutback of a loving Lord and not as a setback. This verse describes, summarizes and explains my journey of faith and ministry.
Is it possible that at least some of your experiences are not a setback but a cutback?

---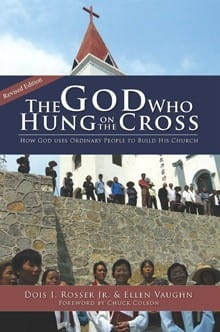 Free Book: The God Who Hung on the Cross
This newly revised paperback edition features reflections on 25 years in ministry by Dois Rosser. The book details the history and vision of ICM, the parent organization for the Mini Bible College, and the vehicle for distributing MBC to congregations around the world. Dois' story is an inspiration, encouraging Christians to give of their time and resources to experience the abundant power of God at work. Journey around the world with Dois and discover that you too can be a part of something bigger than yourself!