From Chaos to Continuity
Psalm 107
"They wandered in the wilderness in a desolate way;
They found no city to dwell in.
5 Hungry and thirsty,
Their soul fainted in them.
6 Then they cried out to the LORD in their trouble,
And He delivered them out of their distresses."
An excerpt from the first stanza of this great hymn of redemption describes how God redeemed His people when they were wanderers in a wilderness. Their way was desolate. They were hungry and thirsty to the point that their souls fainted in them. Then they cried to the LORD and He delivered them from their distresses.
Deliverance is a synonym for salvation and salvation is a synonym for redemption. This first stanza describes how God redeems His people from their CHAOS.
In the Gospel of Matthew we read several times that when Jesus saw the multitudes He wept for them because they were like lost sheep that had no shepherd. They did not know their right hand from their left. In the Gospel of Luke the entire fifteenth chapter is called "The Parable of the Lost Things" because it describes the loving heart of Jesus for those who are lost. The key verse of that Gospel tells us that Jesus came to seek and to save those who are lost (Luke 19: 10).
From Genesis to Revelation we are told of the great loving heart of God for those who need to be redeemed from being lost. After eloquently and graphically describing this first level of redemption, the theme of this psalm is repeated: that those who have been redeemed from their chaos should step up and thank the LORD.
Can you resonate with this first level of redemption and then step up and say so?

---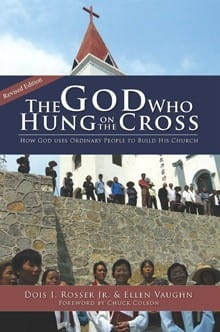 Free Book: The God Who Hung on the Cross
This newly revised paperback edition features reflections on 25 years in ministry by Dois Rosser. The book details the history and vision of ICM, the parent organization for the Mini Bible College, and the vehicle for distributing MBC to congregations around the world. Dois' story is an inspiration, encouraging Christians to give of their time and resources to experience the abundant power of God at work. Journey around the world with Dois and discover that you too can be a part of something bigger than yourself!