The Race vs. GRACE
"The race is not to the swift, nor the battle to the strong, nor bread to the wise, nor riches to men of understanding, nor favor to men of skill; but time and chance happen to them all." - (Ecclesiastes 9:11)
This verse is not teaching the random chaos of life. This verse instead parallels a truth emphasized in the Bible and expressed by the word 'grace.' The truly significant events in the life of a believer are the result of grace and not the results of self effort. The charisma of God upon the work of your hands will make the difference between your life having eternal significance and your life's work amounting to wood, hay and stubble in the eternal state (I Corinthians 3:12-15; Psalm 90:17).
The writings of the Apostle Paul are filled with an emphasis upon the concept of grace. The word grace means 'unmerited favor.'
The blessing of God upon His people is not won by a positive performance or lost by a negative performance. The grace of God and the love of God are unconditional. When you understand the meaning of the word gracewhich is found in the Bible from Genesis to Revelation, it follows that the race is not to the swift or strong or wise or skilled…
"For by grace you have been saved through faith, and that not of yourselves; it is the gift of God, not of works, lest anyone should boast. For we are His workmanship, created in Christ Jesus for good works, which God prepared beforehand that we should walk in them." - Ephesians 2:8-10
Dick Woodward, MBC Old Testament Handbook, p.428

---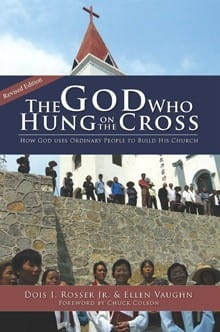 Free Book: The God Who Hung on the Cross
This newly revised paperback edition features reflections on 25 years in ministry by Dois Rosser. The book details the history and vision of ICM, the parent organization for the Mini Bible College, and the vehicle for distributing MBC to congregations around the world. Dois' story is an inspiration, encouraging Christians to give of their time and resources to experience the abundant power of God at work. Journey around the world with Dois and discover that you too can be a part of something bigger than yourself!