Why You Must Be Born Again
"I tell you the truth, no one can see the kingdom of God unless he is born again… no one can enter the kingdom of God unless he is born of water and the Spirit." - (John 3: 3, 5)
John Wesley preached so often on the text "You must be born again" that people asked him, "Mr. Wesley, why do you preach so often that we must be born again?" His answer was always the same: "Because you must be born again!" In the two quotes from Jesus above it is almost as if someone has asked Jesus why we must be born again.
Jesus gives us two answers to our question. Without being born again we cannot see the Kingdom of God and we cannot enter the Kingdom of God without being born again. The Kingdom of God is therefore the end to which the new birth is the means.
People have misinterpreted and misapplied these two answers of Jesus. They replace the concept of the Kingdom of God with the concept of heaven. They would answer our question by telling us we cannot see heaven or enter heaven unless we are born again.
Jesus was not talking about heaven after we die. The Kingdom of God is the concept that God is a King and He wants to make us His subjects. To see that concept and enter into that relationship with God whereby He truly is our King and we are His subjects we must be born again.
Have you ever seen that truth? Have you entered into a relationship with God where He truly is your King? If you have not seen that truth or entered into that kind of relationship with God then you simply must be born again!

---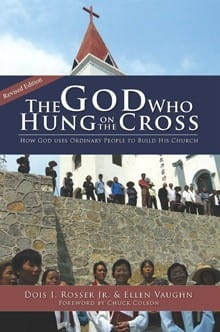 Free Book: The God Who Hung on the Cross
This newly revised paperback edition features reflections on 25 years in ministry by Dois Rosser. The book details the history and vision of ICM, the parent organization for the Mini Bible College, and the vehicle for distributing MBC to congregations around the world. Dois' story is an inspiration, encouraging Christians to give of their time and resources to experience the abundant power of God at work. Journey around the world with Dois and discover that you too can be a part of something bigger than yourself!