The Truth in Love
"but, speaking the truth in love …" - (Ephesians 4:15)
It is possible to devastate people with the truth. One difference between Jesus and the Pharisees was that before Jesus applied the law of God to the people of God He passed the law of God through the prism of the love of God. The Pharisees just threw the book at people. Paul called that "the letter of the law" and he wrote that the letter of the law kills but the spirit of the law gives life.
When I first discovered this in my private study of the Gospels a counseling appointment that same day was with a woman who had great respect for me as a pastor. After she shared her complicated life problems I passed the law of God through the prism of the love of God before I applied the law of God to her life. Just before she left she told me, "Pastor, if you had thrown the book at me today I was going to go home and kill myself!"
I have been told by those who mentor pastors that we should counsel with our head and not with our heart. As a veteran pastor I totally and emphatically disagree! Taking Jesus as our supreme Example and Mentor I believe we should preach, teach and counsel in the spirit of the law and not the letter of the law.
The bottom line is often that we should follow the example of Jesus and not of the Pharisees. All the law of God was born in the heart of God's love. God gave us His law because He loved us so very much He did not want us to suffer the consequences of lawless living. Never forget what Jesus always remembered.

---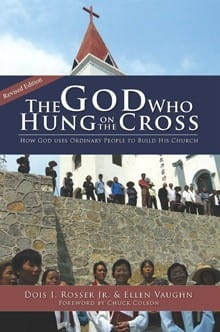 Free Book: The God Who Hung on the Cross
This newly revised paperback edition features reflections on 25 years in ministry by Dois Rosser. The book details the history and vision of ICM, the parent organization for the Mini Bible College, and the vehicle for distributing MBC to congregations around the world. Dois' story is an inspiration, encouraging Christians to give of their time and resources to experience the abundant power of God at work. Journey around the world with Dois and discover that you too can be a part of something bigger than yourself!