A Setback or a Cutback?
"… every branch that bears fruit He prunes, that it may bear more fruit." - (John 15: 2)
 My mentor Ray Stedman loved to tell the story about the famous violinist Paganini. As a brilliant violinist and a superb showman, he liked to attach a sharp razor to his wrist. At the right moment he would cut one of the strings on his violin. The string would pop and the audience would gasp, but the most famous violinist in the world would keep playing. He did this repeatedly and dramatically until he only had one string left on his violin. As a genius he would then play the entire concerto on that one string.
Ray's application was that God sometimes likes to cut back our strings and play the concert of our life on one string. This brings great glory to Him because people can't believe that as we are experiencing those cutbacks our concerto continues to play with an even more beautiful sound.
My precious wife has lost the use of her left arm and I have lost the use of all four limbs. But the concerto of our lives and ministry continues to be more fruitful than it has ever been which brings great glory to God who is the One playing the concerto of our lives.
The explanation of Jesus was that He is a Vine and we are branches related to Him. When we are fruitful because of that alignment He cuts us back to make us more fruitful. Is it possible that events in your life that you have considered a setback are actually the cutback of your loving Lord and Savior who wants your life to be fruitful and your reward to be great in heaven?

---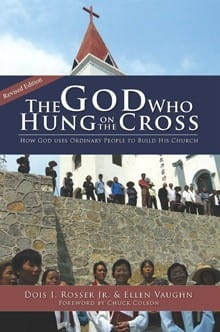 Free Book: The God Who Hung on the Cross
This newly revised paperback edition features reflections on 25 years in ministry by Dois Rosser. The book details the history and vision of ICM, the parent organization for the Mini Bible College, and the vehicle for distributing MBC to congregations around the world. Dois' story is an inspiration, encouraging Christians to give of their time and resources to experience the abundant power of God at work. Journey around the world with Dois and discover that you too can be a part of something bigger than yourself!