A Revelation of Reality
"Whom have I in heaven but You? And earth has nothing I desire besides You." - (Psalm 73:25)
The author of Psalm 73 has a problem. He envies the wicked because they always seem to prosper while God is forever chastening him and putting him through hard times that grow his character. The Psalmist becomes a great model for us as he takes his problem into the sanctuary where the Lord shows him the end of the wicked. That changes his attitude toward the wicked from envy to pity and compassion.
How would it affect your outlook on life if God permitted you to spend five minutes in hell — or in heaven? Both experiences would probably make you an evangelist.
The Psalmist goes on to write: "My flesh and my heart may fail, but God is the strength (reality) of my heart and my portion forever." By this he means that God is the great Reality in this life. Jesus said the same thing when He prayed: "This is eternal life that they might know You the only true God and Jesus Christ Whom You have sent." (John 17:3)
When we have a revelation of eternal reality we will realize that the things we leave when the Lord calls us home are not worth living for while we are here. As Peter considered the great Day of the Lord in which every material thing will be dissolved he asked the question, "Since everything will be dissolved in this way, what kind of people ought you to be?" (2 Peter 3:11)
The answer to Peter's question is that we should be people who know God and make Him known in every nation. This is how we hasten the coming of that great Day of the Lord.

---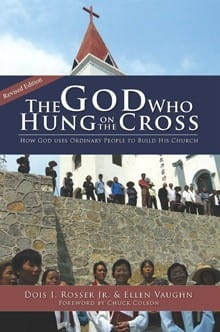 Free Book: The God Who Hung on the Cross
This newly revised paperback edition features reflections on 25 years in ministry by Dois Rosser. The book details the history and vision of ICM, the parent organization for the Mini Bible College, and the vehicle for distributing MBC to congregations around the world. Dois' story is an inspiration, encouraging Christians to give of their time and resources to experience the abundant power of God at work. Journey around the world with Dois and discover that you too can be a part of something bigger than yourself!