A Race Plan for a Lifespan
"… But one thing I do… I press toward the goal of the high calling of God in Christ Jesus." - (Philippians 3: 13, 14)
Are you entering into this New Year with resolution? Can you reduce your priorities to just one thing? In the excerpts above from the writings of the Apostle Paul, the greatest missionary the church ever had wrote that he had just one priority: "the high calling of God in Christ Jesus."
The great apostle often used athletic terminology in his writings. Here he likens life to a race and the goal at the end of this race is what God was calling him to be and do, in Christ, until he was called home to be with his Lord forever.
When an athlete is pacing a race their objective is to give everything they have to winning the race at the instant they break the tape at the end of the race. If they spend all their energy before they break that tape they will collapse before the race is over. If they have not given it all when they break the tape at the end of the race they have not done their best to win the race. That is the race plan and life plan Paul is describing here.
As you run your race of this new year do you have a race plan for your life span? Are you pacing your race in such a way that when you break the tape at the end of the race you will have given it all for what God is calling you to be and do for Him in Christ this year?

---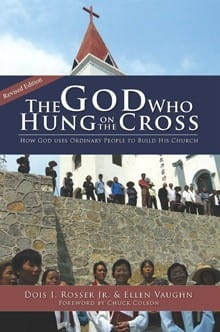 Free Book: The God Who Hung on the Cross
This newly revised paperback edition features reflections on 25 years in ministry by Dois Rosser. The book details the history and vision of ICM, the parent organization for the Mini Bible College, and the vehicle for distributing MBC to congregations around the world. Dois' story is an inspiration, encouraging Christians to give of their time and resources to experience the abundant power of God at work. Journey around the world with Dois and discover that you too can be a part of something bigger than yourself!