A Relationship with God
"Yea, though 1 walk through the valley of the shadow of death,
I will fear no evil; for You are with me …" (Psalm 23:4)
The most important relationship we have is our relationship with God. The greatest description of a relationship we can have with God is the description given by David in his Shepherd Psalm. After explaining how this relationship is established David tells us how this relationship works out as God leads us through the deep dark valleys of our lives.
He tells us that God is with him, goes before him and prepares a table of provision for him in the presence of all his enemies. He tells us that God is like a cup running over within him and God is like oil being poured upon him. He ends his psalm by telling us the goodness and mercy of God will follow him all the days of his life. This Hebrew word for follow could be translated by the word "pursue." So David is actually telling us that God not only goes before him but pursues behind him with his mercy (unconditional love) and goodness all the days of his life.
By application, this means that when you are going through your deep dark valleys you can believe that God is with you goes before you, pursues behind you, will provide for you in the presence of all your enemies, or problems, He is within you, and His anointing is upon you as long as you can say with authentic faith, "The Lord Is My Shepherd."

---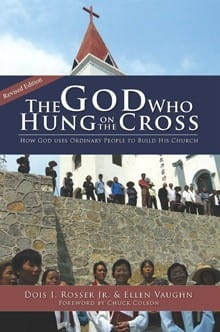 Free Book: The God Who Hung on the Cross
This newly revised paperback edition features reflections on 25 years in ministry by Dois Rosser. The book details the history and vision of ICM, the parent organization for the Mini Bible College, and the vehicle for distributing MBC to congregations around the world. Dois' story is an inspiration, encouraging Christians to give of their time and resources to experience the abundant power of God at work. Journey around the world with Dois and discover that you too can be a part of something bigger than yourself!