How to Get Down Loose When You're Uptight
"Offer the sacrifices of righteousness, and put your trust in the LORD." - (Psalm 4:5)
In this Psalm David has insomnia because he is doing the expedient thing rather than what is right. He's doing this because if he does the right thing he cannot see how he can possibly survive. Since he is a man of deep spiritual integrity this keeps him awake all night. In the middle of the night he resolves in his heart that he is going to make whatever sacrifices he must make to do what is right and then trust the Lord for his survival. This decision changes his emotional climate from anxiety and insomnia to one of peace and peaceful sleep.
His motivation is that there are many people who are asking "Who will show us something good?" In other words, these people are looking for someone who will do what is right even if it costs them everything they have to do right.
The Psalm begins with a prayer that is addressed to the God Who relieves us when we are in distress. If you want to know what distress is just drop the first two letters of the word and you know that this Psalm is all about being relieved from our (di) stress.
If you are a spiritually oriented person and you're not doing what is right because you cannot see how you can survive if you do, are you willing to resolve to make whatever sacrifices you must make to do what is right and then trust God for the outcome? This would totally convert your emotional climate and be a tremendous witness to those who are looking for someone who is willing to offer to God the sacrifices of righteousness.

---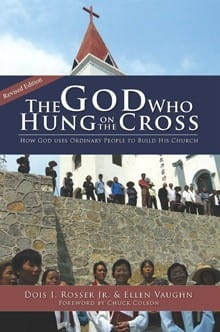 Free Book: The God Who Hung on the Cross
This newly revised paperback edition features reflections on 25 years in ministry by Dois Rosser. The book details the history and vision of ICM, the parent organization for the Mini Bible College, and the vehicle for distributing MBC to congregations around the world. Dois' story is an inspiration, encouraging Christians to give of their time and resources to experience the abundant power of God at work. Journey around the world with Dois and discover that you too can be a part of something bigger than yourself!