Absolutes about Knowing God
"But without faith it is impossible to please Him, for he who comes to God must believe that He is, and that He rewards those who diligently seek Him." - (Hebrews 11: 6)
The truth is when I first came to faith and to the ministry I was struggling to know God. Providentially I had several spiritual heavyweights who mentored me to God. They shook things down for me into three basic and absolute propositions that made sense to me then and still do today.
Their first proposition was that God is there. I have not struggled with that proposition. I began by reflecting on the many, many ways God responds to the very many prayers I pray to Him there.
Their second proposition was that God is real. I found that when I related myself to God He responded by relating Himself to me. That inspired me to believe that He was not only there, He was very real when I related to Him and made personal contact with His divine presence.
When I found myself sharing with God the intimate dimensions of my personal, private and even secret life He responded to those prayers. I realized that I had come to believe in a personal God. That was the third proposition of my mentors: God is personal.
They wanted me to believe in and come to know a God who knew the numbers of hairs on my head. By the grace and providence of God I have come to know that personal God. I can believe Him when He tells me He has a plan for my life which when followed will make me a unique person distinct from every other living person.
Will you believe in the God who is there, real and personal?

---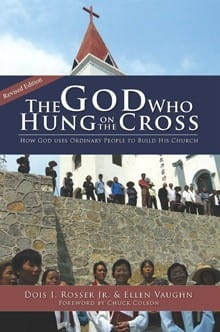 Free Book: The God Who Hung on the Cross
This newly revised paperback edition features reflections on 25 years in ministry by Dois Rosser. The book details the history and vision of ICM, the parent organization for the Mini Bible College, and the vehicle for distributing MBC to congregations around the world. Dois' story is an inspiration, encouraging Christians to give of their time and resources to experience the abundant power of God at work. Journey around the world with Dois and discover that you too can be a part of something bigger than yourself!