God is Love
"No one has ever seen God; but if we love one another, God lives in us and his love is made complete in us… God is love." (>1 John 4:12, 16)
When the Apostle John wrote the fourth Gospel he made it clear that no one has ever seen God, but the only Son of God, who was in intimate fellowship with God the Father, has fully revealed God (John 1:18). In the verses quoted above John connects the dots for us. He writes that God is love and when we love in the ways His love is being expressed in and through us, we show the God that cannot be seen to this world.
The greatest revelation of truth this world has ever or ever will see was the life and teachings of Jesus Christ. Everything He was, everything He did, and everything He said was part of that revelation. According to John, that revelation is continuing in and through those of us who are His authentic followers in this world today.
The peak of that revelation is love. Not everything that claims to be love, but the quality of love revealed in the life and teachings of Jesus Christ. We must love one another with this quality of love because as we do, all the lives we intersect will see God – and the greatest revelation this world has ever known will continue through us. This adds to John's list another reason we must love.
Are you willing to be part of that continuing revelation of the God Who can only be seen in the lives of those who know Him and are by His grace conduits of His love? Then ask Him to do that on whatever candlestick He has placed you.

---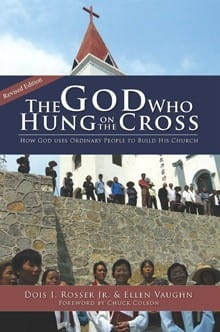 Free Book: The God Who Hung on the Cross
This newly revised paperback edition features reflections on 25 years in ministry by Dois Rosser. The book details the history and vision of ICM, the parent organization for the Mini Bible College, and the vehicle for distributing MBC to congregations around the world. Dois' story is an inspiration, encouraging Christians to give of their time and resources to experience the abundant power of God at work. Journey around the world with Dois and discover that you too can be a part of something bigger than yourself!