Difficult Relationships
"And a servant of the Lord must not quarrel but be gentle to all, able to teach, patient, in meekness correcting those who are in opposition, if God perhaps will grant them repentance, so that they may know the truth, and that they may come to their senses and escape the snare of the devil, having been taken captive by him to do his will." - (2 Timothy 2:24-26)
We might label these words Paul wrote to Timothy: "How to relate to a difficult person." We all need this teaching because we must all deal with difficult people.
According to Paul the difficult person to whom we are relating has been taken captive by the evil one and we cannot free them. We can maintain three fruits of the Spirit (gentleness, meekness and patience), which keeps the door open for God.  We then earn our hearing and place before them the Word of truth they need to hear. We must not quarrel because that opens the door for the evil one and closes the door for God.
When they acknowledge the truth of God's Word they experience repentance, and escape from the captivity of the evil one. This is not a matter of teaching or preaching. It is not having the last word or winning the argument. This is becoming a conduit through which almighty God sets people free who were not free.
To repent means to think again or to have a change of mind, heart, will and direction. It is a work of God you cannot perform. Only God can use His Word and you His servant to make this happen. In an attitude of prayer and in dependence upon God and His Spirit are you willing to be a conduit of this miracle?

---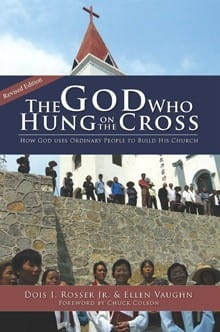 Free Book: The God Who Hung on the Cross
This newly revised paperback edition features reflections on 25 years in ministry by Dois Rosser. The book details the history and vision of ICM, the parent organization for the Mini Bible College, and the vehicle for distributing MBC to congregations around the world. Dois' story is an inspiration, encouraging Christians to give of their time and resources to experience the abundant power of God at work. Journey around the world with Dois and discover that you too can be a part of something bigger than yourself!