A Definition of Humility
"By faith Moses… esteeming the reproach of Christ greater riches than the treasures in Egypt… looked to the reward."   (Hebrews 11: 23, 26)
No man has ever made a greater contribution to the work of God than Moses. He gave the people of God their freedom when they were not free. He gave them the one thing newly emancipated people need more than anything else: law and government. Spiritually, he gave them the Word of God and worship.
A famous spiritual heavyweight named Dwight L. Moody summarized the life of Moses this way: "He lived 120 years in three periods of 40 years. In the first 40 years he learned that he was nobody. In the second 40 years he learned that he was somebody. In the last 40 years of his life Moses and the whole world learned what God can do with somebody who has learned that he is nobody!"
Moses faced his greatest challenge when God called him to deliver God's people from their awful slavery in Egypt. Moses had tried to do this on his own and failed, but God told him as He appeared in the burning bush: "You are not the deliverer. I am. You can't deliver them but I can." When the greatest miracle in the Old Testament happened God did not need to tell Moses: "You didn't do that.  I did!"
Have you ever tried to be the conduit of God's deliverance from the slavery of addiction or sin in the life of another person? When you do you simply must learn this definition of humility: you are not the deliverer.  God is. You can't deliver them but God can. And if deliverance happens God is the Deliverer.

---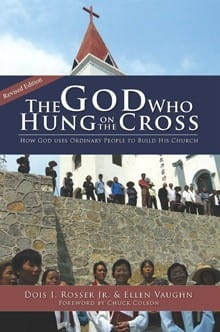 Free Book: The God Who Hung on the Cross
This newly revised paperback edition features reflections on 25 years in ministry by Dois Rosser. The book details the history and vision of ICM, the parent organization for the Mini Bible College, and the vehicle for distributing MBC to congregations around the world. Dois' story is an inspiration, encouraging Christians to give of their time and resources to experience the abundant power of God at work. Journey around the world with Dois and discover that you too can be a part of something bigger than yourself!