A Prescription for Greatness
"He must increase, but I must decrease." - (John 3:30)
Who was the greatest prophet who ever lived?  Who was the greatest man who ever lived? According to Jesus the answer is John the Baptist (Luke 7:28; Matthew 11:11). Having studied the Scripture for six decades I find that answer to be intriguing because very little space is given in the Bible to record this man's life and ministry.
As I meditate on the Scriptures that describe him I have come to a conclusion about his greatness. At least one key to his greatness was that he accepted the limits of his limitations and the responsibility for his ability.
As we attempt to discover who we are and what God wants to do through our life it is a good rule of thumb to accept the limits of our limitations and the responsibility for our ability. When a degenerative disease of the spinal cord took away my physical abilities, it was critical for me to accept my increasing limitations and continue to be responsible for my abilities.
After about two years of illness when the acceptance came, it was so profound I decided it was a form of inner healing. Using speech recognition software on my computer I received the grace to write about ten thousand pages of what I call a Mini Bible College. These 782 studies of the Bible have been translated into twenty eight languages in sixty countries.
It fills me with grateful worship to realize that the formula for greatness I have learned from John the Baptist has guided me to the most important work I have done for God and Christ.
Are you willing to accept the limits of your limitations and the responsibility for your ability?

---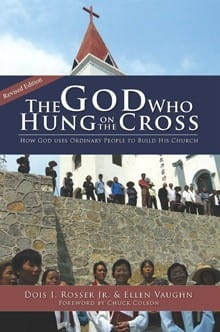 Free Book: The God Who Hung on the Cross
This newly revised paperback edition features reflections on 25 years in ministry by Dois Rosser. The book details the history and vision of ICM, the parent organization for the Mini Bible College, and the vehicle for distributing MBC to congregations around the world. Dois' story is an inspiration, encouraging Christians to give of their time and resources to experience the abundant power of God at work. Journey around the world with Dois and discover that you too can be a part of something bigger than yourself!