A Prescription for Communication
"'Who told you that you were naked?' the LORD God asked.'" - (Genesis3:11)
We have confessed, climbed and conserved to apply the jet pilot's compass. We must now apply the most critical points on his compass and ours. Just as the jet pilot must communicate with his carrier, we must communicate with God.
We all know that we can communicate with God through prayer. In the familiar story from the book of Genesis we learn that God communicates with us and He wants us to know that He communicates with us.
In a psychiatric hospital a man told his psychiatrist that he was Napoleon. The psychiatrist asked him "Who told you that you are Napoleon?" The man responded, "God told me." The man in the next room shouted, "I did not!"
In Hebrew the question God asked is literally: "Who made you know that you were naked?" You may be uncomfortable telling people that God told you to make a decision like a career change. Would it be more comfortable to say God made you know that you were to make a certain decision? Do you believe God can make you know what He wants you to know and do?
It is exciting to know that we can communicate with God through prayer and even more exciting to know He communicates with us. Just as the last two points on the pilot's compass are the most critical, it is critical for us to be in two-way communication with God.
God communicates with us in many ways but the most important is when we are reading His inspired Word. We should open the Bible with this prayer: "Let all the voices be stopped. Speak to me Lord, Thou alone."

---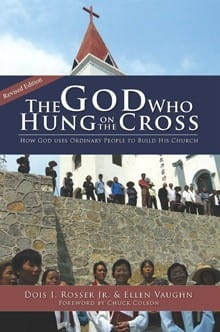 Free Book: The God Who Hung on the Cross
This newly revised paperback edition features reflections on 25 years in ministry by Dois Rosser. The book details the history and vision of ICM, the parent organization for the Mini Bible College, and the vehicle for distributing MBC to congregations around the world. Dois' story is an inspiration, encouraging Christians to give of their time and resources to experience the abundant power of God at work. Journey around the world with Dois and discover that you too can be a part of something bigger than yourself!