July 5
Baptize Them
God desires so strongly to create saving faith in the hearts of your children that he not only gives you his powerful Word to share with them, but he gives you also another means by which the Spirit can come to live within them: Holy Baptism.
In Old Testament times, newborns were welcomed into a relationship with God and the believing community through the offering of animal sacrifices and ritual circumcision. In New Testament times, Christ has opened up membership in the heavenly family through the "washing with water through the word" (Ephesians 5:26). If you thought that getting your kids' immunization shots gave you peace of mind from measles, mumps, and rubella, imagine the peace you can enjoy knowing that your little ones wear robes of the holiness of Jesus Christ.
On Pentecost Day itself, the birthday of the New Testament church, Peter gave this promise to thousands of amazed listeners: "Repent and be baptized, every one of you, in the name of Jesus Christ for the forgiveness of your sins. . . . The promise is for you and your children" (Acts 2:38,39).
I think that the reason why some people hesitate is that they think their kids are too young to understand these great things. Hey—you don't need to understand a legacy or bequest to receive it legally. Baptism is God's gift for all, and that includes your children.
---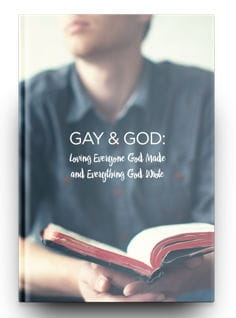 Gay & God: Loving Everyone God Made and Everything God Wrote
Jesus wanted his people to be known for their love. But sadly, love is often the last thing homosexuals find in the church.
This brand-new resource from Time of Grace called Gay & Godshows youthe deep meaning and true significance of Jesus' words, "Love your neighbor as yourself."It also teaches you what the Bible actually says on the topic of homosexuality—and empowers you to show practically the love of Christ in a culture where being gay is the new normal.
For more from Time of Grace visit them at TimeofGrace.org or visit their  OnePlace.com and LightSource.com pages!