Resist the Devil
In Jude 9 we are told how Michael the archangel dealt with Satan. 
Yet Michael the archangel, in contending with the devil, when he disputed about the body of Moses, dared not bring against him a reviling accusation, but said, "The Lord rebuke you!"
My concern is that some people have tried to use this Scripture to say that we do not have authority over the devil.  They believe we have no recourse other than to pray that the Lord will do something about him.
But that is not the point he is making here at all.  Jude was referencing the previous verse where some would "speak evil of dignitaries."  He used Michael's conversation with the devil to show that this was wrong.  To say that we do not have the right to resist the devil and cast him out on the basis of this Scripture is ridiculous.  Here are five things to think about:
1. This event between Michael and Lucifer (Satan) happened before New Testament times—before Jesus defeated the devil and broke his power.
2. James 4:7 tells us, Resist the devil and he will flee from you.  It does not say, "Pray that God will resist the devil for you."
3. Jesus, in the Great Commission, told us to cast out devils (or demons).  Jesus wouldn't tell us that if He hadn't given us the authority. 
4. In Luke 10:19 Jesus said, "I give you the authority to trample on serpents and scorpions, and over all the power of the enemy, and nothing shall by any means hurt you."
5. In the book of Acts, as the Church carried out their mission, they commanded demons to come out, and they came out in Jesus' name.
My friend, Jesus has broken the authority of the devil in your life.  Resist him and he will flee!
---
Visit the Answers with Bayless Conley website for more ways to connect with God. 
Click here to watch this week's Answers with Bayless Conley broadcast at LightSource.com or listen on OnePlace.com.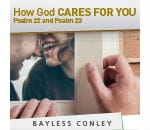 Discover how much God cares for you!
We want to help you find your Shepherd by sending you a copy of Bayless' message, 'How God Cares for You.' This series is our gift to thank you for your donation to help bring a living Jesus to our dying world!