I Just Can't Do It
by Berni Dymet
Hebrews 11:8 By faith Abraham obeyed when he was called to set out for a place that he was to receive as an inheritance; and he set but, not knowing where he was going.
I have a confession to make. I just can't do it. I can't. You see for years I tried to be perfect. God's perfect and so if I go and ask Him for something well surely I have to be perfect too, right? I mean I have to have perfect faith. 
Now, my faith's a whole bunch stronger today than it was say five years ago, but it's still so far from being perfect. I used to try so hard until one day, I realised … I was completely missing the point!
Because the very instant I put my imperfect faith in Jesus - well, in God's eyes, I became perfect. That's how it works - and every time I blunder, I just know I'm forgiven - because Jesus paid the price for me.
So now - now I go and ask God to help me with this or with that - with all the imperfect faith that I can muster - and you know something, as He meets my every need, I can hear him whisper "Just Perfect".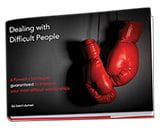 Get a Free eBook from Berni Dymet, Dealing with Difficult People. This timely and relevant eBook contains 6 powerful principles guaranteed to improve your most difficult relationships. And you can download it FREE, right now.