Getting Faith 
by Berni Dymet
 
Ephesians 2:8-9 For by grace you have been saved through faith, and this is not your own doing; it is the gift of God—not the result of works, so that no one may boast.
People talk about having faith - but where do you find it? I mean, exactly where do you find it? I've tried to conjure up faith. I've tried to pretend that I have faith. I've tried to convince myself - I am a man of faith. But then I discover - all it takes is a little pin prick to burst my faith balloon. 
So I've thought a lot about faith. They say that faith isn't something we do off our own bat, but that it's a gift from God so that none of us can boast about it. But where do you find that gift?
Well, as I've wandered along the long, hard, lonely dusty roads that life sometimes takes you on - I've looked for it. Under this bush, around that corner - expecting to find this bright, shiny package called faith.  
I never found it until one day I turned and looked back down that road - and I saw all that God had done.  Then I found it. Seems He'd kind of hidden it, tucked it away…deep in my heart.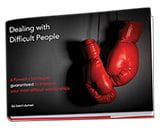 Get a Free eBook from Berni Dymet, Dealing with Difficult People. This timely and relevant eBook contains 6 powerful principles guaranteed to improve your most difficult relationships. And you can download it FREE, right now.