Holocaust Survivor
by Berni Dymet
John 8:12 Again Jesus spoke to them, saying, "I am the light of the world. Whoever follows me will never walk in darkness but will have the light of life."
I recently visited the Jewish Holocaust Museum in Sydney. The displays and stories were confronting. But the most compelling part for me was talking with one of the guides, now in her eighties. 
She has a unique perspective on things - because she was there. She told me what it was like when they arrived at Auschwitz. She, her mother and her sister. They were all in a line. She was sent to the left, her mother and her sister to the right.
She never saw them again. As I looked into her eyes, well, you can't help but be moved by that.
And so I asked her - Why do you do this - come to the museum and talk to people like me? 
She answered - I want people to know. I just want them to know. 
That place was like a mirror reflecting the darkest part of the human soul. It's great to celebrate human achievement, but I wonder if it isn't even more important sometimes, to remember the darkness.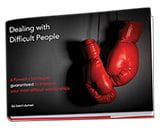 Get a Free eBook from Berni Dymet, Dealing with Difficult People. This timely and relevant eBook contains 6 powerful principles guaranteed to improve your most difficult relationships. And you can download it FREE, right now.