The Graph
by Berni Dymet
1 John 5:13 I write these things to you who believe in the name of the Son of God, so that you may know that you have eternal life.
The stock market's a funny thing. Shares go up and shares go down. And one of the things I've learned is the importance of graphs. If I focus just on the movement of a stock over the last day or even week - what I get is a short-term view. 
If I look at that same stock however graphed over 6 months, a year, even two - that gives me a whole different perspective. It takes me out of the short term - to give me the context - the big picture which is so vitally important in making any investment decision. 
I wonder whether in life, we don't spend most of our time on the short-term graphs. Reacting and dealing with the things happening right now. But when we stand back - take a longer-term view … you know what we see?
Life here on this earth is fleetingly short. And what really matters is the eternity that follows, because eternity is such a long time. And that is so important in making our life investment decisions.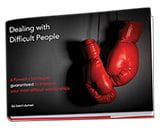 Get a Free eBook from Berni Dymet, Dealing with Difficult People. This timely and relevant eBook contains 6 powerful principles guaranteed to improve your most difficult relationships. And you can download it FREE, right now.